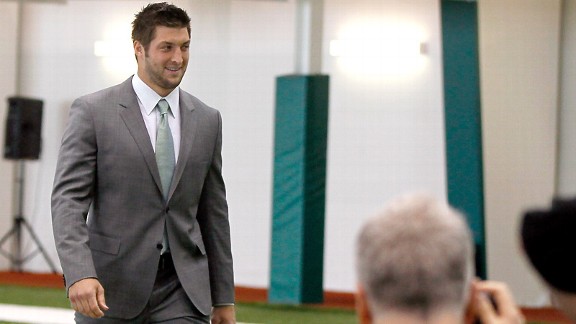 Mike Stobe/Getty ImagesTim Tebow walks to the podium to address the media on Monday. What did you think about his suit?
Welcome to the Big Apple, Tim Tebow. Now, suit up!
Plain white shirts, square-toe loafers and pastel ties may cut it in Colorado and Florida, but in New York, we expect power dressing.
So while you're working on your passing game, you need to put some effort into that wardrobe of yours.
The newest New York Jet and captain of the God squad landed at the Jets' practice facility to address the press yesterday -- showing up in a getup as boring as his sex life.
For his Gotham debut, the 24-year-old backup quarterback looked every bit the second fiddle in an imperfectly fitted, light-gray two-button suit, a blasť textured pastel-green tie and a snooze-worthy white shirt.
All said, it was just an $895 off-the-rack Hugo Boss suit -- something any average Joe with a Visa card can snap up.
And -- the horror! -- slip-on, square-toed loafers.
To read the rest, check out Fleming's story in the New York Post.