I don't believe Mario Lopez.
The "Extra" host, who is known for "Saved by the Bell" and for his ridiculously fit body, said he loves eating party foods on the weekend and still can maintain washboard abs.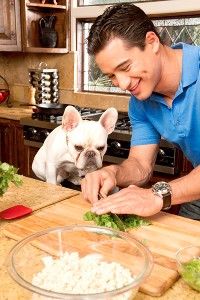 Courtesy of Michael DarterActor/fitness buff Mario Lopez cooks while his dog -- Julio César Chávez Lopez -- looks on.
"You can still embrace all foods! It's all about portion control," said the 38-year-old Lopez, who was a high school wrestler and has stayed in shape ever since. "You have to spoil yourselves sometime, especially on weekends."
Lopez is working with Betty Crocker to promote the second annual "Betty Bracket": the ultimate recipe matchup between "Beer Meets Bar Foods" and "Beer Meets Bakery" recipes.
It's down to the Final Four as "Beer Battered Grilled Cheese Sandwiches" faces off against "Whiskey and Beer BBQ Chicken Sliders" on one side of the bracket and "Tall, Dark and Stout Chocolate Layer Cake" against "Toffee Brown Ale Cheesecake Bars" on the other. The winner will be announced on Thursday.
"I love to eat and I love food, and health and fitness is still a top priority in my life," said Lopez, who is Alumni Ambassador of Fitness by the Boys & Girls Clubs of America and on President Obama's Council of Physical Fitness. "But you have to enjoy life sometimes and there is nothing you should try to avoid."
People can still cast votes for their favorites online. (Lopez's favorite recipe of "Beer Queso Nachos" lost in the Elite Eight.)
"I'm really looking forward to the real Final Four this weekend and seeing the showdowns and having some good food," Lopez said. "I'll worry about everything else on Monday."