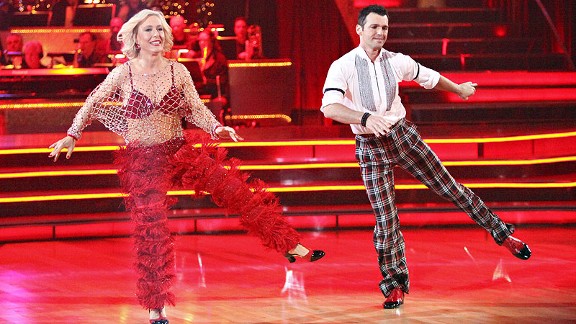 Adam Taylor/ABC/Getty imagesMartina Navratilova and Tony Dovolani danced the jive Monday on "Dancing with the Stars."
Tennis great Martina Navratilova was the first contestant sent home on ABC's "Dancing with the Stars."
"I blew the dance on Monday," Navratilova said after losing her footing during the jive to be at the bottom of the scoring totals. "I really wish I could have stayed around a little longer."
For Navratilova, it was more about educating the public about her charity -- AARP -- and her coming out of her shell.
"I was trying to get out of my comfort zone and do something that was unfamiliar to me," said the 55-year-old Navratilova, who is considered the greatest female tennis player of all time. "I had a wonderful time and I hope the people can see that you do anything if you set your mind to it. I want people to get out of their rut."
The other athlete on the show -- Green Bay Packers wide receiver Donald Driver -- survived and will go on with the other 11 contestants.