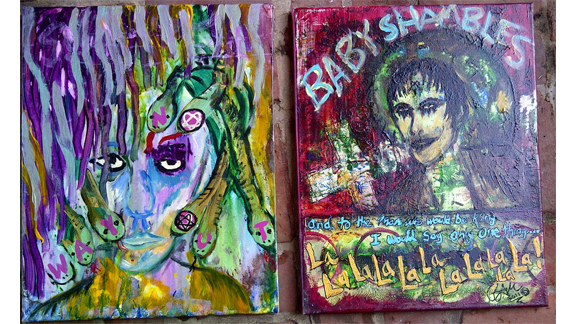 Courtesy of Bam MargeraMargera's artwork incorporates quotes from friends and consists of "mostly hot chicks."
When a pro skateboarder's career gets pushed to the back-burner due to injury, it's best he have a few more irons in the fire. Take Bam Margera. Even long before his recent battle with painful, skate-induced bone spurs and a bad knee, the 32-year-old regular-footer was expanding his creative territories far beyond his solid foundation as an Element team rider. With stints for the big screen (see the "Jackass" franchise) and the small screen ("CKY", "Viva la Bam"), and others, Bam's antics have had a global reach. And now, he's a painter. But before we get to that, let's have Margera add some detail to a few recent news items.
ESPN.com: TMZ has been all over your action lately. Did you really get in a fistfight with an undefeated professional boxer in Australia?
Margera: I think he was actually a rugby player. Just some random rugby player. I think he busted on my hat or something. And I spit right in his face. We got into a one-minute fight and he ended up knocking me out. I was out for like five minutes, snoring on the ground. There were two people who knew who I was who were trying to help me, and when I woke up I tried to beat them up. They're all, "No, we're trying to help you!"
Thanks for clearing that up. Moving on to New Orleans. Give us your version of the swimming pool incident.
I was with a bunch of people. I jumped in the pool with all my clothes on, and all these police officers show up and were trying to arrest me. And I said, "Catch me if you can!" and I started doing the backstroke. "If you wanna arrest me, you're gonna have to get in the pool!" Then they were gonna taze me, but if you taze somebody in a pool you're gonna get electrocuted. So that didn't happen. Then I told them, "My dad's fat, and when he's in a pool we swims with his T-shirt on and his shorts. The only difference is that I have on pants and shoes. So what's the crime? I went all the way down to the police station but they didn't know what to charge me for, so they let me go.
Did you spend the night in the jail?
No. The whole thing took like three or four hours though.
So I heard you're an artist now. True story?
Yeah, I started painting. And somebody asked me if I wanted to do an art show in Philly and New York and I said yeah. So I just took it super seriously, and now I've been buying like 50 canvas, and I'll paint in Australia and I'll ship them home. And then I'll go paint some in Bangladesh and ship them home. London. Madrid. All that. Most of them are serious but there are a lot of funny ones too.