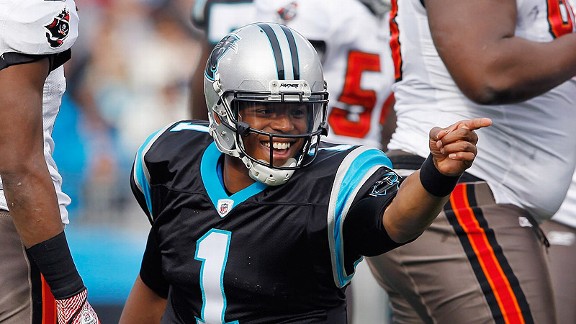 Streeter Lecka/Getty Images)Cam Newton's fans have come out in full force so far for the "Madden 13" cover vote.
Is there a favorite to win the "Madden NFL 13" cover vote?
Looking at the numbers, I'd say there are two: Cam Newton and Calvin Johnson.
After two rounds, Cam has received more votes than any other player in the tournament, with Megatron a close second.
But I also wouldn't count out guys like Victor Cruz or Rob Gronkowski, as both of these players seem poised to pull off an upset or two on their way to the cover.
Then again, you never know whose fans will step up and ignite an online campaign to push them through to the finals. Last year, Peyton Hillis almost lost in the second round, then out of nowhere, his numbers started to explode thanks to various online campaigns from both the Browns and a few social media-savvy superfans who wanted to see their favorite bruising back finally get the glory (even if the "Madden" curse seems to already have crushed his career).
And with the round of 16 kicking off Wednesday over at SportsNation, here's a look at this week's matchups:
THE CAM NEWTON IS A MONSTER BRACKET
(1) CAM NEWTON vs. (8) ANTONIO GATES
This looks like another easy round for Cam. Gates is a "Madden" legend of epic proportions, but I have a feeling Newton's "Madden 13" character will be remembered as one of the all-time greats when the game ships in August.
(5) LESEAN MCCOY vs. (4) LARRY FITZGERALD
Larry Fitzgerald already had his turn on the cover, so give this one to Shady. If McCoy wins, then goes down this year thanks to the curse, how do you think the city of Philadelphia will react? I can see thousands of people burning "Madden" boxes as part of the tailgating tradition already.