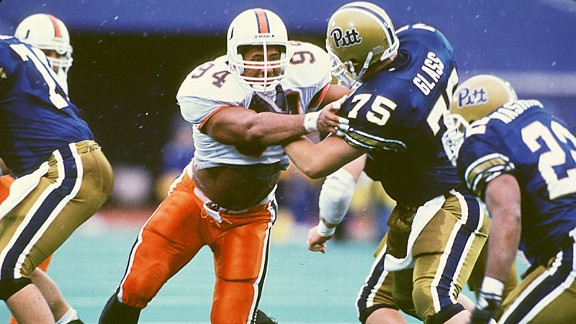 Miami/Collegiate Images/Getty ImagesMiami Hurricanes defensive lineman Dwayne Johnson struck fear in Pitt before becoming The Rock.
On Sunday millions of Americans will watch the annual spectacle of WrestleMania. Yes, the matches are "fake."
But some of the wrestlers are legitimate athletes. A peek at the sports backgrounds of WrestleMania participants:
The Rock vs. John Cena
The Rock (Dwayne Johnson) started at defensive tackle for the 1991 Miami Hurricanes national championship team. Cena started at center on the D-III Springfield (Mass.) College football team.
CM Punk vs. Chris Jericho
Jericho's father, Ted Irvine, stared in the NHL. More impressively, Jericho (Chris Irvine) co-owns a training facility in Florida with Tim Tebow and Chipper Jones. Punk, well, he did shoot the puck at a Chicago Blackhawks game.
The Undertaker vs. Triple H
'Taker (Mark Callaway) played high school hoops. At UFC 121 the Deadman exchanged heated words with Brock Lesnar, leading some to believe a 'Taker vs. Lesner WWE match may be on the horizon. Triple H (Paul Levesque) was a bodybuilder prior to wrestling.
Daniel Bryan vs. Sheamus
Bryan (Bryan Danielson) trains at Randy Couture's MMA gym in Las Vegas. Sheamus (Stephen Farrelly) played rugby for The National College of Ireland.
Cody Rhodes vs. Big Show
Rhodes won two Georgia state high school wrestling championships, later turning down college scholarship offers to sign with the WWE. The 7-foot-tall Big Show filled the lane for the Wichita State basketball team in the early 1990s.
Randy Orton vs. Kane
Orton wrestled in high school. Kane (Glenn Jacobs) played basketball at Northeast Missouri State.
Maria Menounos and Kelly Kelly vs. Beth Phoenix and Eve Torres
Menounos, a correspondent for "Extra," competed only in beauty pageants, while her partner Kelly Kelly (Barbara Blank) did gymnastics as a kid. Phoenix (Elizabeth Carolan) was the first varsity wrestler in the history of her Elmira, N.Y. high school. Torres danced at Los Angeles Clippers' games in 2006.
Team Teddy vs. Team Johnny
This is a 12-man tag match. Among the participants with sports backgrounds are Mark Henry and Jack Swagger (Donald Hager). Henry participated in the 1992 and 1996 Summer Olympics on the U.S. weightlifting team. Swagger played football and wrestled at the University of Oklahoma.