Welcome back to another edition of Page 2 Jeopardy!, the quiz that tests your knowledge of sports, pop culture and assorted trivia. Please remember to phrase your responses in the form of a question.
(Correct questions at the end of the quiz.)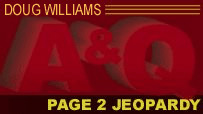 1. Answer: After a shooter from Kazakhstan won the gold medal at the Arab Shooting Championships in Kuwait this week, organizers mistakenly played a song from this 2009 movie during the medals ceremony, instead of the country's national anthem.
2. Answer: This animal in Australia picked up the nickname "Callaway" after it ate two golf balls this week that were left in chicken nesting boxes to encourage the hens to lay eggs.
3. Answer: This high school will debut a new $60 million, 18,000-seat football stadium this fall, complete with video scoreboard and two-tier press box, financed by a bond issue approved by voters.
4. Answer: He's been called "Ichiro fast" for his home-to-first speed, recently timed by a scout at 3.79 seconds, which is far faster than the majors' norm of 4.2 for a left-handed batter.
5. Answer: This five-time national champion from Seattle, fighting in the 132-pound division, is hoping to represent the United States in London in the debut of women's boxing at the Olympics.
Question 1: What is "Borat: Cultural Learnings of America for Make Benefit Glorious Nation of Kazakhstan"?
Question 2: What is a carpet python?
Question 3: What is Allen (Texas) High School?
Question 4: Who is the Dodgers' Dee Gordon?
Question 5: Who is Queen Underwood?