There was more to Zuma Jaguar than just a pretty face and a giant, spotted head.
He was a well-rounded cat who loved much more than just cheering on San Diego State's athletes.
He enjoyed music and reading, listing singer Cat Stevens and books like "Secrets of the Talking Jaguar" and Kurt Vonnegut's "Cat's Cradle" as faves on his Facebook page.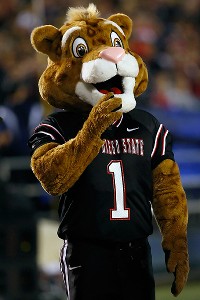 Jody Gomez/US PresswireSan Diego State's Zuma was put out to mascot pasture.
But alas, at the tender age of 2, Zuma -- a large, friendly, costumed character who appeared at football and basketball games -- lost all nine of his lives at once when SDSU pulled the plug on him this week.
Cause of death? Confusion.
Zuma, born as a "supplemental character" and sidekick to the Aztec Warrior, the school's official mascot, had become almost too popular for his own good. Though kids liked him, a certain segment of the fan base thought the cartoonish cat was too distracting from the traditional Warrior. Some campaigned for his removal. One fan told newspaper UT San Diego that Zuma looked too much like a cougar, the mascot of longtime rival BYU.
"We didn't really want to confuse the brand," says Steve Schnall, SDSU's associate athletic director. "And I think to avoid that confusion, it made sense from a university standpoint to say we have one mascot, and that mascot's the Aztec Warrior."
Schnall thought Zuma had been successful in his role as more of a cuddly character who had "a little bit more leeway to do some fun things" than the Warrior. Ultimately, though, Zuma "kind of blurred the lines, maybe more than what we would have liked."
Recent SDSU grad Gina Abbamonte, 22, a member of "The Show" section at basketball games, says she enjoyed seeing Zuma at football and basketball games and thought the crowd liked him. She knows others didn't.
"They didn't really see the point of him," she says. "They just saw him as some random character, I guess."
But, she added, "I thought he was fun. ... I mean, people dress up as bananas, so why can't we have a jaguar?"