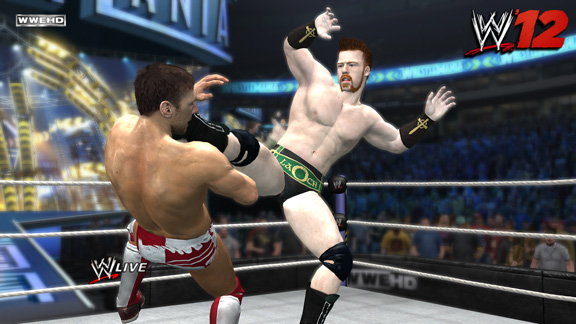 THQLook for Sheamus to kick Daniel Bryan in the grill this Sunday at Wrestlemania.
I asked THQ to simulate the upcoming Sheamus versus Daniel Bryan WrestleMania match, and after 50 "WWE 12" slugfests, Sheamus won 52 percent of the championship bouts thanks to a series of thunderous Brogue Kicks to Bryan's smug mug.
"Only 52 percent, fella?" Sheamus says after I tell him the results. "I think there must be something wrong with your Xbox. I think I should win 100 percent of the time."
And with Sheamus continuing to explode in popularity, both in the WWE ring and online in the latest WWE video game, the man who makes even mayonnaise seem colorful might be right.
In fact, when I asked THQ to pull the numbers for the past few months, gamers have used the Sheamus character across 303,654 online matches, making him one of the most popular superstars in the virtual ring.
"That's crazy," Sheamus says with a laugh. "The fact that I'm even in a video game blows me away, but 'WWE 12' is even more special to me because they have a whole storyline around Sheamus in the game. It's really, really cool. Being in a video game was one of my dreams; I just hope I can win some of those matches for people online. Just remember to use the Brogue Kick, and you should be fine."
Jon Robinson: So many characters seem to come and go in WWE. What do you attribute to your success and your sustainability as a performer so far?
Sheamus: Don't get me wrong, I've been lucky and I've been given some amazing opportunities, but this is something I've always wanted to do. I feel like a broken record sometimes, saying that this is all I ever wanted to do, but it's true. To be honest, though, the best thing that could've happened to me is when I was moved down on the card. When something like that happens to you, it reasserts your hunger and makes you realize that you can never take anything for granted. You can never be happy, you can never be satisfied with what you have. You always need to have that want to achieve more, and I definitely want that success.