In "DRIVING MR. YOGI," set for release Tuesday, Harvey Araton takes a look at the unique friendship between Yankees pitching great Ron Guidry and Hall of Fame catcher Yogi Berra, which resumes each spring when Guidry picks up Berra at Tampa's airport and drives him to nearby George Steinbrenner Field. Here's an excerpt detailing a batting lesson Nick Swisher received from the Yankees' legendary catcher: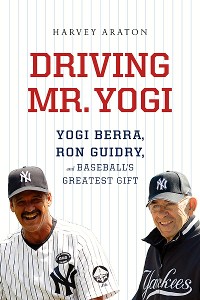 Houghton Mifflin Harcourt "Driving Mr. Yogi" tells the tale of Ron Guidry's time with Yogi Berra.
It ate at Guidry that anyone, and most of all the younger Yankees, might not show Berra the proper respect. They needed to know everything the man represented, all that he still had stored in that steel trap of a baseball mind. As he sat on the bench after Swisher's groundout, Guidry asked himself, "Why shouldn't Berra share his opinion? What the hell did age have to do with it?"
"Yogi was a guy who had already been through the same damn thing, and a lot longer than any of the coaches," he said.
When Nick Swisher returned to the dugout, ambled down the steps and past the bat rack, and, almost on cue, proceeded to march down the row in the direction of the water cooler, Guidry stood up suddenly and blocked his path. He pointed an index finger at Berra.
"He wants to talk to you," he said.
Swisher was momentarily startled but obediently sat down in the space Guidry had vacated. No stranger to Berra, or anyone else around the clubhouse, Swisher, for one, didn't think Berra needed much defending, though he understood and marveled at how Guidry looked out for him.
"There's that difference of making sure that man's respected and not put in a spot where he gets embarrassed," said Swisher, who nonetheless refused to sell Berra short in a friendly war of wits. "I'm telling you, it's crazy, but Yogi's a good counterpuncher. You can come with a quick jab, but he'll come right back over the top with something."