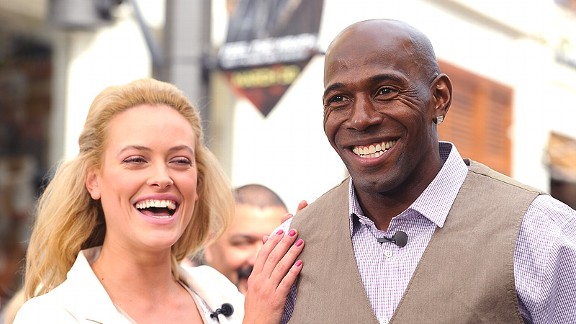 Noel Vasquez/Getty ImagesPeta Murgatroyd and Donald Driver, making a promo tour last week, will dance the rumba Monday.
With the exit of tennis legend Martina Navratilova last week, Green Bay Packers receiver Donald Driver is the only athlete remaining on ABC's "Dancing with the Stars."
Driver said he was surprised Navratilova -- with her large fanbase -- would be the first of the 12 contestants kicked off the dancing competition, but he knows he needs to focus on himself.
"I was shocked, but in a competition like this you have to expect the unexpected. Anyone can be sent home on any given week. That may sound stressful, but it's really not," Driver said. "All you can do is work hard and compete. The rest will take care of itself."
On Monday night, Driver and partner Peta Murgatroyd will dance the rumba on the live show. This season, the duo have been in the middle of the pack, following opera star Katherine Jenkins and Disney star Roshon Fegan.
"The new dances are coming along great," Driver said. "Our scores from the judges improved from week one to week two, and we want to keep that trend going."
So far, "Packers Nation" has been flooding the phone lines, especially in Driver's home state of Wisconsin, In fact, Driver's team received a call from a Wisconsin phone company telling fans to vote throughout the show instead of wating for the end because they've jammed the lines.