Shaquille O'Neal led his team to four NBA championships in his career, but was he a leader?
Kobe Bryant might not think so, but Shaq says all of his antics -- the media sniping, the jokes, the nicknames -- were part of his leadership style.
"I would say that as a leader I was 70 percent humorous, 30 percent seriousness," Shaq told Page 2.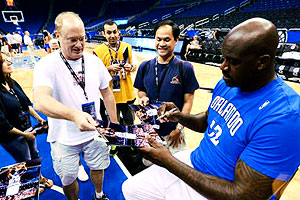 Courtesy of Chase Shaquille O'Neal, seen here at a Chase event, might soon give out leadership tips to businessmen.
Shaq's serious about his leadership technique. So serious, in fact, that he's achieving his doctorate degree in leadership and education at Barry University in Miami. He's flying to Miami this week to defend his dissertation on the duality of humor and seriousness in leadership, and if that goes well, he'll graduate and become Dr. Shaquille O'Neal on May 5.
We caught up with O'Neal to discuss his leadership style and his graduate work as he hosted an event for Marriott Rewards Premier Visa Signature from Chase cardmembers in Orlando.
What drew you to this area of study and how do you feel your experience in basketball helped you?
I think my experience in basketball has played a vital part in it. I've always been in a leadership role, reading John C. Maxwell, Morton C. Blackwell and guys like that, reading a lot of their principles and applying it to basketball. The reason my dissertation is dualities of humor and seriousness in leadership is because that's exactly what I did when I led my teams to our championships. The only time I got serious was when placed in a certain set of circumstances.