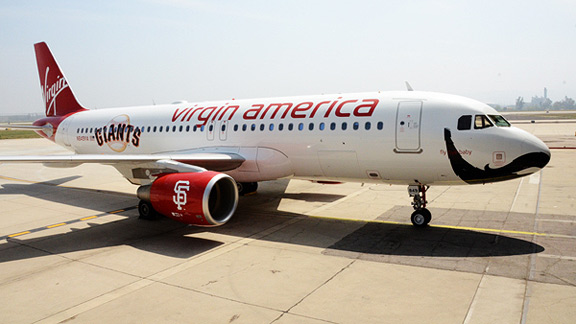 Virgin America San Francisco-based Virgin America salutes the Giants and closer Brian Wilson with this bearded jet.
For years, San Francisco Giants closer Brian Wilson has seemed to be on a higher (or at least far different) plane than the rest of us.
"The Beard" speaks his own language and does his own thing, once declaring himself a "certified ninja," while another time explaining he had "too much awesome on my feet" after his orange cleats prompted a fine.
But now The Beard truly will be on a different plane -- a Virgin America Airbus A320 that took off Monday and begins regularly scheduled flights on Tuesday.
As part of the airline's partnership with the Giants, Virgin America has redesigned the Airbus with a giant Giants logo and -- in a hairy homage to Wilson -- a black beard and mustache painted under the craft's nose.
The plane has been named "Fly Bye Baby" by the San Francisco-based airline and has been given a thumbs-up from many Giants fans in the digital world. Wrote one fan on the team's Facebook page: "Absolutely ridiculous. I fully support it."
Abby Lunardini of Virgin America's media relations team says the idea for the Beard-themed plane emerged quite a while ago while the airline and team were working on other projects.
"It was actually something that came up very early on in our partnership -- at first as a joke, but then everybody loved the idea," she said Monday.
As part of the new promotion, Virgin also will have a special club level at AT&T Park this season and has launched a Twitter campaign (#flythebeard) for people to post photos of the plane to earn a shot at winning airline tickets. The first of those were posted Monday.
Though Wilson's fastball cruises into the mid-90s, he's no match for the Airbus, which can zip along at about 560 mph. Even at that speed, the Airbus' whiskers won't blow in the breeze.
Then again, Wilson says his bushy beard can't be controlled. "Let's be honest here," he once said. "It's just doing what it wants, and it just does what it wants."
These days, it's looking down at the rest of us from about 35,000 feet.