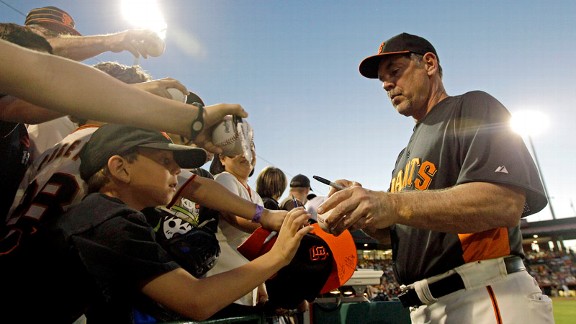 AP Photo/Marcio Jose SanchezAfter leading the Giants to the World Series title in 2010, Bruce Bochy has become a fan favorite.
SCOTTSDALE, Ariz. -- Bruce Bochy has been described as a player's manager. He's a firm, disciplined leader who never criticizes his players in public. Being a former catcher, his greatest attribute is his handling of pitchers -- knowing when to pull a starter or deciding what reliever to bring in from the 'pen depending on the situation. These pitching decisions helped guide the Giants to a World Series title in 2010.
Son Brett Bochy is a right-handed pitcher in the Giants organization, and Bruce had the pleasure of watching him pitch against the Milwaukee Brewers on Sunday. Brett, assigned to Double-A Richmond this season, tossed a 1-2-3 seventh inning and struck out two batters.
"I'm sure I was more nervous than he was," Bruce Bochy said. "It's a moment I'll always remember. Bringing your son into a game, that's a pretty neat thing."
There's a lot to love about spring training. Small, intimate ballparks place you on top of the action. You get to be outside in the sun watching a kid's game, remembering the days when you were young and these men in uniform were your heroes. As I watched the Giants prepare to make another World Series championship run, I wondered whether Buster, Freddy and The Beard would be back at 100 percent. I tried to see which unknown players would surprise everyone by making the squad. And with many positions undecided, how would "Skipper Boch," as many fans like to call him, make the final roster cuts?
At first glance, Bochy, NL Manager of the Year in 1996, appears quite intimidating. But after a few minutes of speaking with him in the dugout at Scottsdale Stadium, his warm personality made me feel right at home. He was an engaging conversationalist. He emphasized that the toughest part about being a manager during spring training is informing a player that he's not going with the club to the City by the Bay.