Welcome back to another edition of Page 2 Jeopardy!, the quiz that tests your knowledge of sports, pop culture and assorted trivia. Please remember to phrase your responses in the form of a question.
(Correct questions at the end of the quiz.)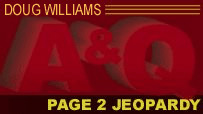 1. Answer: After buying $10,000 of Mega Millions lottery tickets, this NBA rookie said it was no big deal because it was "either that or blowing it in the clubs."
2. Answer: Rory McIlroy gave a verbal commitment to play college golf at this U.S. school before changing his mind and deciding to play as an amateur in Europe.
3. Answer: After signing with the Raiders, this free agent said he's familiar with the team because of the "Madden" video game, adding: "They always had the fastest team. I always put Terrelle Pryor in the game (at QB) and I run around with him. … He's probably my favorite player on the team."
4. Answer: He was the only major league hitter to strike out more than 200 times in 2011, with 205.
5. Answer: While basketball fans were watching the Final Four semifinals last Saturday, tourists and residents of this town were watching the annual Rattlesnake Rodeo.
Question 1: Who is the Wizards' Chris Singleton?
Question 2: What is East Tennessee State?
Question 3: Who is linebacker Philip Wheeler?
Question 4: Who is the Reds' Drew Stubbs?
Question 5: What is Opp, Ala.?