Not to add paranoia to the mental tests required to navigate Augusta National, but it looks like this year's Masters is not just about golfers keeping an eye on the ball. They'd better watch their backs.
Sure, Luke Donald dodged disqualification when it could be proved that the first-round scorecard he signed was correct and that a smudged number from a fax machine was wrong. But was that an honest mistake from behind the scenes -- or crafty sabotage?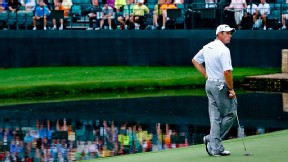 Tim Dominick/The State/MCT via Getty ImagesLee Westwood has no idea of the danger that could be lurking in that water hazard.
Nervous sources close to the leaderboard tell Page 2 that the bounty frenzy has reached Augusta. There's a fear that a faction of players who know they have no shot of making the cut have a secret pact to pay into a pool that pays big-time cash bounties to those who take out the big boys.
We don't have the names of those invested in this Project Masters Mayhem. We can't ID exactly who they're gunning for.
But we have peeked at a crumpled slip of paper salvaged from a wastepaper basket in the scorer's tent. It indicates sore losers are in cahoots with underhanded caddies, with lots of illicit green cash at stake that could ruin the integrity of golf's most sacred weekend.
We hope that by spelling out this alleged hit list that the guy who earns the green jacket won't be needing to wear body armor to get there.
• Letting loose a hacking cough upon a golfer teeing off: $100
• Causing someone to curse within pickup distance of a TV mic: $500
• Knocking someone in the forehead with your backswing: $1,000
• Subjecting pimento cheese sandwiches to food poisoning: $2,500
• Replacing allergy medication with Pez tablets: $5,000
• Slipping scorpions into someone's bag: $7,500
• Dumping piranhas into the water hazards: $10,000
• Planting golf balls made from C4 plastic explosives: $12,000
• Burying a bear trap in a sand trap: $15,000
• Digging a Burmese tiger pit in front of the entrance to the Eisenhower cabin: $20,000