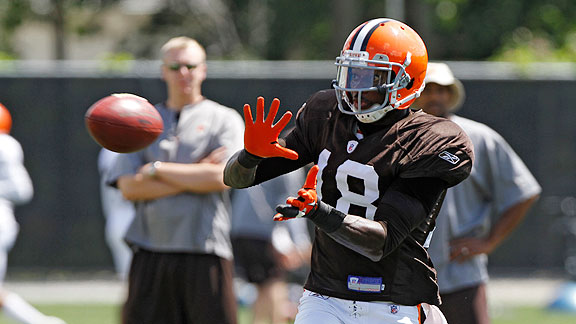 AP Photo/Mark DuncanLooking for a few laughs from the sports world? Browns receiver Carlton Mitchell is worth a follow.
Carlton Mitchell was drafted by the Cleveland Browns in the sixth round of the NFL draft out of South Florida in 2010. He's compiled modest statistics in his first two seasons, so he's still somewhat of an unknown in social media.
But his comedic presence on Twitter can't be denied.
On this #followfriday, check out some outstanding tweets from @C_Mitch18.
#Flashback The awkward moment when you're at your friends house and your friend is getting yelled at so you just stand there and pet the dog

— Carlton Mitchell (@C_Mitch18) April 3, 2012
Did you know? Its impossible to say "Good Eye Might" without sounding Australian? lol you are trying right now

— Carlton Mitchell (@C_Mitch18) March 29, 2012
We should have a way of telling people their breath stinks without hurting their feelings like: "Well I'm bored, let's go brush our teeth."

— Carlton Mitchell (@C_Mitch18) March 28, 2012
I wish the dollar store would sell gas

— Carlton Mitchell (@C_Mitch18) April 3, 2012
@c_mitch18,Cleveland Browns WR/ST With Faith, Concentration & A Sense Of Humor, ANYTHING is Possible #JustSayin #AO1 #InJesusNameIPlay #TeamFollowBack