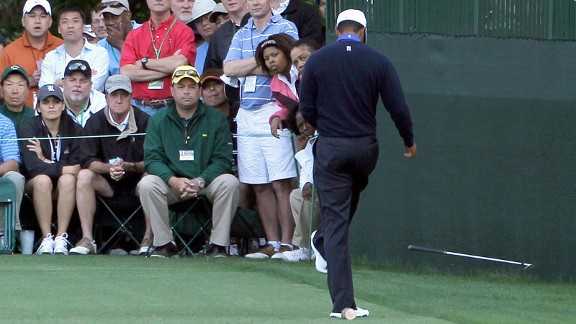 Jamie Squire/Getty ImagesTiger Woods kicks his club after a tee shot on 16th hole during the second round of the Masters.
We still can get some pleasure from the Masters golf tournament and the Augusta National Secret Society even though John Daly has finished judging a nearby wings-eating contest and Tiger Woods has kicked all the clubs in his bag. After all, this is the "annual rite of spring time," according to the disciples at CBS.
Speaking of Woods, after his 3-over round Friday, he said, "Unfortunately, I got into my old patterns again." Wait a second, Tiger. Aren't your "old patterns" supposed to be the best patterns in the world? Confusing.
A few more Augusta notes from the week: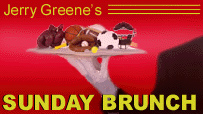 • When Tiger drop-kicked his 9-iron Friday, raise your hand if you could relate. Yeah, me, too.
• So who will you be rooting for in Sunday's final twosome? Peter Hanson? Are you Swedish?
• Looks like we'll get through the Masters week without a single concussion.
• If I ever have a secret that I really, really don't want anyone to know, I want Billy Payne as my spokesman.
• If you missed it, Augusta National dropped fried chicken sandwiches and added veggie wraps to its menus. Who says the club doesn't change with the times?
And now while our sports literary superstars put the final touches on the delights in this Sunday Brunch, here are few more bits of tid from the week that was:
• Also from Augusta, thanks to Hall-of-Famer sportswriter Dave Kindred for this: "Tom Watson's late caddie, Bruce Edwards, ate egg salad sandwich at Masters 13 tee every day. Now Watson leaves sandwich there every day."
• Have the Mets been eliminated yet?