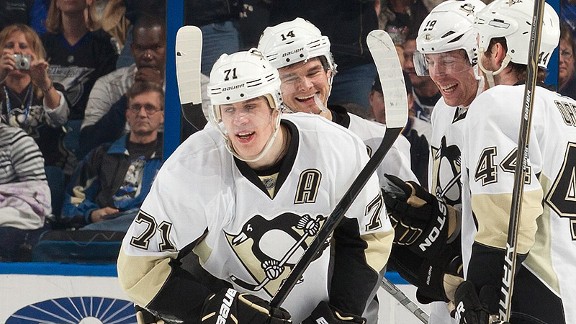 Scott Audette/NHLI/Getty ImagesPittsburgh's Evgeni Malkin is the NHL's top scorer this season and will continue in the playoffs.
So we went to a brawl and a hockey game broke out.
Or the owner of a hockey club decides to give his own version of the Wonderlic to his star player. "What's two plus two?" he asked. The player thought and thought and then says, "Four?" And before the owner can react, the other players cry out, "Come on, give him another chance!"
I'll be here all week. Try the veal.
To be fair, we rarely mention hockey during our reader-generated Top 10 lists but the battle for the NHL's Stanley Cup begins Wednesday. Seems only fair to pay attention.
The amazing story this year is the strength of the Pittsburgh Penguins. While Sidney Crosby missed more than three months with concussion-like symptoms, Evgeni Malkin because the league's top scorer and center Jordan Staal has been stellar, too. According to NBC play-by-play announcer Mike "Doc" Emrick, the Penguins enter the playoffs with a line that "goes out and knocks your clock."
We're not exactly sure what "knocks your clock" means, but it sounds serious.
And that's what we want from you. Why should we want to watch the Stanley Cup playoffs? Do we really want to see clocks get knocked? We are looking for suggestions to fill this week's list: "Top 10 Odd Reasons to Watch the Stanley Cup Playoffs."
Send as many ideas as you like to osogreene@aol.com. As always, in order to be used, you must include your first name, initial of your last name and your location. You have until noon Wednesday.
Hockey fans, this one's for you.