In another life, Todd McFarlane -- known for his comic illustrations and acclaimed line of sports and action figures -- might have added pro ballplayer to his résumé.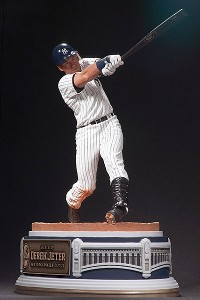 McFarlane Toys McFarlane Toys selected a guaranteed commodity in Derek Jeter to launch its new line of premium resin sports statues.
"I was incredibly average," the toy magnate said, "but I was left-handed and could run like the wind. I probably would've been a solid minor leaguer." Sadly, McFarlane was forced to put that dream on hold after an injury ended his college career.
Without baseball, McFarlane devoted himself to comics and became one of the most successful illustrators of his generation. He started his own production company, which led him into the action figure game. Licensing athletes was the logical next step. "A truism in business," he said of the move, "is sticking to what you know," and on the eve of McFarlane Toys' biggest release yet -- a $225 resin statue of Derek Jeter that stands 12 inches tall -- the former center fielder said he made sure he knew everything for this project.
This will be the first in McFarlane's line of premium resin sports statues, and picking the right athlete was of paramount importance. Because of his company's nearly yearlong development and production lead time, McFarlane became what he calls a "quasi general manager," becoming an expert in free agency, trades and contracts. So for this launch, he needed an athlete who wasn't likely to switch uniforms before the release. Plus, he said, Jeter passes the mom test. "Ask your mom about an athlete, and if she's heard of Derek Jeter, then, he's pretty popular," he said.
The statue will be released in August. The limited-edition item can be preordered on McFarlane's website until April 14.