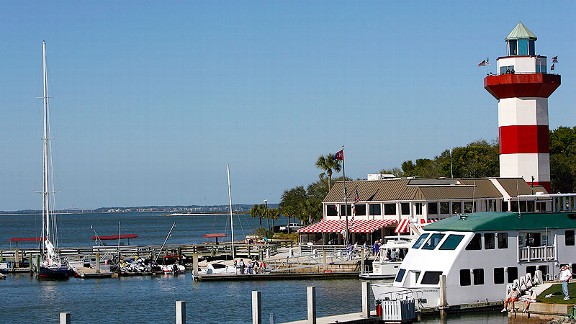 Kevin C. Cox/Getty ImagesHilton Head's Harbour Town might be a ghost town this time around, what with the tide being so low.
In case you thought life was all Masters tournament badges and pimento cheese sandwiches among the 1 Percenters, sometimes they have squabbles of their own. For example, they might at times reach this impasse:
HARBOR MASTER: "Your stupid yacht's too big!"
YACHT CAPTAIN: "Your lousy harbor's too small!"
Such is life at South Carolina's Hilton Head Island for the RBC Heritage, this week's stop on the PGA TOUR. TV cameras love to soak up sights of the Harbour Town Yacht Basin. And seafaring golf fans who own yachts of a certain size gladly pay these docking fees
However, Boeing, the presenting sponsor of this year's Heritage, had to scrap party plans to dock its corporate private yacht, the Daedalus, because there's too much silt in the yacht basin.
At low tide, the basin is 5 feet deep, and the Deadalus requires a 10-foot clearance before hull meets mud. And you can't expect passengers who are putting a dent in your caviar reserves to get out and push the boat out of being stuck.
The harbor's been looking for a solution to the sediment problem for years. Dredging has become too costly, and apparently you can't sneak a request to take care of that into the catering bill.
Thus, Boeing and everyone else in the Monster Yacht Rally party crowd is taking this in stride and looking elsewhere for entertainment options. Hey, its not like an "Occupy Yacht Street" movement would solve any problems.
But if you happen to know whom to bribe so that it'd always be high tide at Harbour Town? Work some connections, there are people who'd like to see that happen.