If you watched the Masters over the weekend, you probably noticed that Bubba Watson was using a pink Ping driver, prompting Ping to start selling the club as a limited edition.
But wouldn't it also be cool if you could have a custom-colored golf club?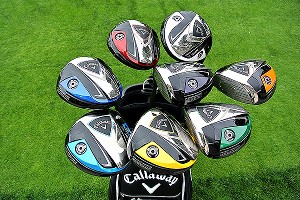 Courtesy of CallawayCallaway allows consumers to mix and match the clubhead, shaft and grip colors.
Now you can, thanks to a new initiative from Callaway called udesign (yes, it's all lowercase), which lets you customize the color of your Callaway Razr Fit driver head, shaft, and grip. It's perfect if you're superstitious about certain colors, or if you want your clubs to match your company colors, or whatever.
For example -- just speak hypothetically here -- let's you have a web site with a green-and-gold color scheme. You can have your club head and grip match those colors. Or the grip and the shaft. The interface is fun and easy to use, like one of those uniform "team builder" sites, and prices start at $399 for the club and another $50 for the custom colors. (For further info, look here.)
And yes, you can get a pink shaft. Be careful with that, though -- it goes a lot better with a Green Jacket than with what you probably wear on the course.