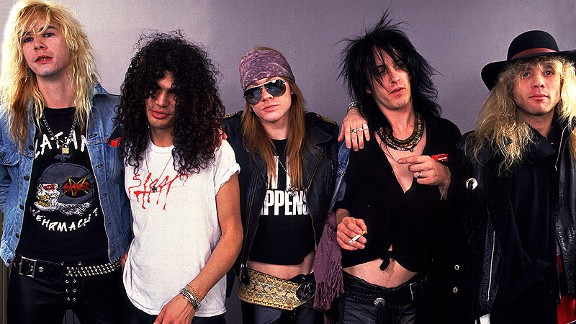 Paul Natkin/WireImageGuns N' Roses in 1987: A lot of attitude, even more hair, and a Hall of Fame future.
Editor's note: This column was published prior to Guns N' Roses singer Axl Rose's statement that he will not be attending the Rock and Roll Hall of Fame ceremony, and is declining induction.
Some of you may know that my band Guns N' Roses will be inducted into the Rock and Roll Hall of Fame this weekend in Cleveland. My editor has been hoping that somehow I could write about what this whole thing is like from the "inside."
Truthfully, it has been hard for me to find a good place from which to start and write such an article, head-space wise.
We are not a band anymore, and haven't been for some time. We are all still alive and well, but there has been some muddy water that has gone underneath the bridge. But water, muddy or otherwise, does indeed flow past and forever away, and I have nothing but the best of memories and highest level of love and admiration and feelings of brotherhood with all of those dudes. Seriously.
I was sent a sort of open letter addressed to us guys in GNR from a fella named Chris Gehert on behalf of "Worldwide Guns N' Roses Fans," and it sort of stopped me short. I will run it now in its entirety:
"Dear Guns N' Roses,
On Saturday April 14th 2012 you will be inducted into the Rock and Roll Hall of Fame. This gave a great hope to every GNR fan on the planet for a one time reunion show. Our one and only chance to see the original lineup on stage together again, if only for five minutes. Something we've been told for years would never happen. Rumors swirled, the band denied, and the fans prayed. It will always be okay because you never promised us anything.
With less than 2 weeks before the induction, the fans are watching as our reunion hopes start to disappear like Marty McFly's family in a polaroid picture. Each day it seems like there is some new story about how there has been no communication, nobody knows what is required of them, nobody's talking, and nobody really seems to care.
• Click here to read the rest of musician Duff McKagan's weekly column on ESPN Music.