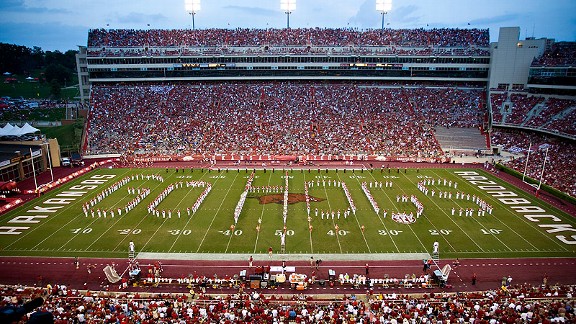 Wesley Hitt/Getty ImagesArkansas football is in the market for a new leader, and the Hogs' passionate fans are awaiting.
Bobby Petrino is gone. Who's likely to take his place at Arkansas? Here are a few candidates:
Gus Malzahn -- Malzahn grew up in Arkansas, played for Arkansas and coached at Arkansas. "But but but ... he just took the Arkansas State job! He can't just dump them without ever coaching a game!" He can if he ever wants to be an SEC coach. They don't even bother to interview people down there who have a clear conscience. In fact, no conscience at all is preferred.
Dana Holgorsen -- West Virginia got passed by on SEC membership, but that doesn't mean Holgorsen can't join up. Holgorsen's team put up 70 on Clemson in the Orange Bowl. Just imagine what it could do against SEC defenses. (Probably 20 to 25. Hey, that's not bad.)
Houston Nutt -- Nutt was a two-time coach of the year at Arkansas and won 10 games there as recently as 2006. Maybe it's time to let bygones be bygones and take him back. Late-night texts to a local news lady seem almost old-fashioned in the wake of Petrino Knievel.
Todd Graham -- Would Arkansas want him? Probably not. He accomplished nothing in his one season at Pitt before leaving for Arizona State. But you can be sure he has submitted his resume. Repeatedly. Like, every five minutes since the news of Petrino's crash went public.
Lane Kiffin -- USC is bowl eligible again and has a star quarterback returning. Why would Kiffin leave his "dream job?" Are you new to college football? Returning to the SEC would be the ultimate troll move or, as the kids call it, the ultimate Kiffin. Arkansas would be interested, too, because it's very unlikely that Kiffin would ever cheat on his wife.
A name coach -- Not a "name coach" like someone famous, although that would be fine. Arkansas needs to consider hiring a coach with an SEC-sounding name. Dabo Swinney or Jimbo Fisher would work, for example. Or nab an assistant such as TCU's Rusty Burns or LSU's Brick Haley. Either way, if the guy sounds like he'd be in "Dukes of Hazzard," he's a good candidate.
This guy -- Who is he? Who knows. But it's unlikely he'd do anything to hurt the Arkansas program. Scalp tattoos aren't easily removed.
Hogzilla -- Look at that thing. Surely it has offspring. What it lacks in football knowledge it surely would compensate for in recruiting. Hogzilla towers over Nick Saban. It would intimidate recruits into signing. And everyone loves bacon. It's time Arkansas moves away from pig-like head coaches and picks an actual pig.