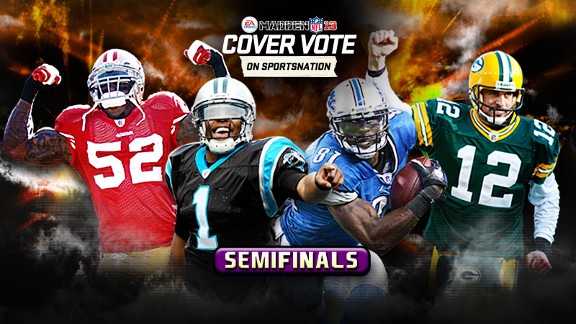 ESPN.com Illustration
With the "Madden NFL 13" cover vote down to the round of four, is it inevitable that we'll see a battle of Cam Newton versus Calvin Johnson in the finals?
Not so fast. While Cam and Megatron have been Nos. 1 and 2 in total votes since the competition began, they each face players who seem to be surging at the right time (and from teams with millions of faithful voters).
Only time will tell if the Packers and 49ers fans vote with their hearts and try to help Aaron Rodgers and Patrick Willis advance to the finals, or if an anti-curse vote from all four fan bases turns the final four into a free-for-all.
• Click here to read the rest on The Gamer blog.
• Click here for the entire cover vote bracket on SportsNation.