College basketball signing day was on Wednesday. Here are the official Page 2 rankings of the best recruit classes.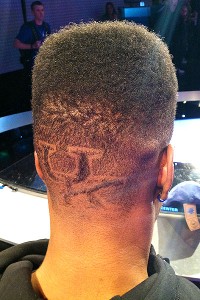 Courtesy of Dave TelepNerlens Noel announced his intention to attend Kentucky via his hair.
1. Kentucky -- Nerlens Noel is a great high school player, but the best part about Noel is that he announced his decision with his hair. That's the kind of thing that earns the top spot in the Page 2 College Basketball Recruit Rankings. In fact, much of our best writing here is submitted via scalp. True story. But with Noel in the fold at Kentucky, one obvious question is raised: Where will he land in the 2013 NBA Draft? Look for the Bobcats and Wizards to still be in position to grab the No. 1 overall pick then.
2. UCLA -- Coach Ben Howland reeled in Shabazz Muhammad who was rated the second-best player in the nation. It's a great signing for Howland. Muhammad is a talent who obviously keeps his focus on basketball instead of wasting his time with stuff like reading or doing research.
3. Pitt -- Pitt is 13th in the official ESPN rankings, but they're three here for one reason: 6-foot-10 New Zealand recruit Steven Adams. Look at him here, here and here. Notice the similarity? Yes, college basketball finally has its replacement for this guy. Add to it Pitt's NCAA tournament track record, and we have a great chance to see some on-court tears.
4. Michigan -- The Wolverines brought in a good class in Mitch McGary and Glenn Robinson III. Robinson is the son of former Purdue and Bucks star Glenn Robinson, and will team with Tim Hardaway Jr. to give Michigan a great inside-outside combo of making you feel old.
5. Duke -- The Blue Devils have no recruits in the ESPN Top 10 and only one in the Top 25. This is obviously a Duke recruiting class many college basketball fans will rank as their favorite.