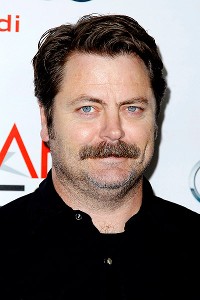 AP Photo/Matt Sayles"Parks and Recreation" star Nick Offerman was a spectator to the Rob Lowe-Peyton Manning escapade.
Remember when actor Rob Lowe inexplicably broke the news in January that Peyton Manning would never play football again? Lowe, a friend of Colts owner Jim Irsay, sent out a tweet on Jan. 18 that a reputable source told him Manning would retire later in the day.
Lowe's source, as it turns out, was wrong.
But it still provided an intense, interesting day for Lowe and his cast mates on Parks and Recreation, who were cramped in a campaign bus all day filming an episode that will air later this spring.
Nick Offerman, who plays Ron Swanson on the NBC comedy, describes the day to Page 2:
"In this episode we were all on the campaign bus. We had everybody, the whole cast, on the bus. Between takes it came out that this had happened and everybody was all atwitter about it, on their phones and what-not. Rob was talking about how he had inadvertently broken this huge story, and he had it from a very reputable source. But there was a sense of complicity among us on the bus where we all felt like we better keep our mouths shut. It was very hot information. We were sort of thrilled at the level of delicious gossip and at the same time everybody was kind of scared at this explosive, volatile information. And then afterward it turned out to be not true."