Welcome back to another edition of Page 2 Jeopardy!, the quiz that tests your knowledge of sports, pop culture and assorted trivia. Please remember to phrase your responses in the form of a question.
(Correct questions at the end of the quiz.)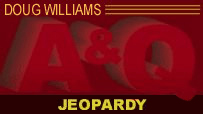 1. Answer: Athletes Thomas Trammell, Charles Smith, William Paris and Gerry Watson all have this in common.
2. Answer: This minor-league baseball team is giving away tree saplings Sunday in what is being called "Grow Your Own Bat Night."
3. Answer: They are the only two visiting pitchers to throw complete-game shutouts against the Rockies at Coors Field over the past 13 seasons.
4. Answer: After he led his Beijing Ducks to the championship of the Chinese Basketball Association recently, some of his ardent fans in Beijing have started a campaign to honor him with a bronze statue.
5. Answer: After a three-game, season-opening sweep of the Braves, Mets players received this special treat in the clubhouse after Game 3.
Question 1: What is the nickname Bubba?
Question 2: Who are the Tulsa Drillers?
Question 3: Who are Barry Zito and Roy Oswalt?
Question 4: Who is Stephon Marbury?
Question 5: What are cheeseburgers from Citi Field's Shake Shack?