Commentary
New sport kicking grass, taking names
Originally Published:
March 31, 2010
By
Kristy Barry
| Special to Page 2
MACON, Ga. -- "Ready, set, mow!"
Racers dash to their mowers, rev their engines and barrel around the course, all in the spirit of kicking grass and taking names.
"The lawn mower races are just as competitive as NASCAR, every bit as serious as stock car races," explains Bruce "Mr. Mow it All" Kaufman, president of the U.S. Lawn Mower Racing Association.
[+] Enlarge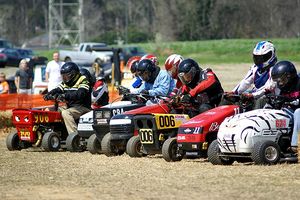 Katie BarryLawnmower racing. It's all the rage. Grown men (and women) ride around on their tractors.
Yes, there's a national association, often times broken bones, and even a hall of fame -- for a series of races spanning from Minnesota to Delaware and Florida.
What started as a promotion for STA-BIL Fuel Stabilizer 18 years ago has turned an old chore into a relatively new sport.
As many as 16 racers at a time compete in several classes based on engine size, RPMs and horsepower. To determine pole position for the final class races, riders go 10 laps around a tenth-of-a-mile course, and 20 laps for the final race.
Here in Macon, the 10-weekend racing season kicks off with 45 racers, around 400 spectators, and plenty of Anti-Monkey Butt on hand. That is, a powder that relieves irritation caused by friction with clothing and dirt kick-up.
Pumped up and ready to mow is Georgia's own 15-year decorated race veteran Bobby Cleveland. He set the record for monster mower jumping and drives tricked-out mowers at speeds over 80 mph but shrugs off talk of chick-magnet status.
"I always say that the women I meet at the lawn mower races are the women I can pick up at the Waffle House," he jokes.
Cleveland warms up for his race by talking trash to his nephew Kevin while making a ham sandwich in the decked-out motor home he travels around the country in -- and I'm starting to see where NASCAR comparisons come into play.
Outside, Pat "Rocket Man" Sullivan just won his race riding a 1960 mower he found at a junkyard for $100. He has built several mowers for his family, sinking $2,000 into this engine and $3,000 altogether -- and he doesn't even own a yard.
[+] Enlarge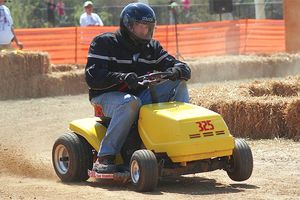 Katie Barry Pete Sullivan thought his dad was crazy for racing lawnmowers but now he's joined in.
The 68-year-old Rocket Man blazes at speeds of 23 mph and aims to clobber his son, Pete, who beat him at nationals last year.
"He's not going to give me the good engine now," Pete says, standing at 6 foot 3 and looking like a big kid in a kindergarten chair when he sits in his mower.
Pete said at first he thought his dad was crazy for racing mowers. Now, even his brother-in-law Mike Paccione races mowers, has won two championships and roped his wife into racing.
The family is tough and resilient, or as they say here, "mowtivated."
At the races this weekend, Paccione flipped his mower, dusted off the dirt and kept racing. Pete crashed his mower, broke his collarbone, landed in the hospital and returned the next day. Pete's wreck happened when he tried to make a pass and flew off his mower.
But, sprawled out on a stretcher with an IV sticking out of his wrist, Pete only squints to show pain.
"I just fell kinda funny," he says, sounding like a man who speaks softly and drives a 12-horsepower engine.
The police officer nearby said that he would've written him up for reckless driving but "I left my ticket book in the car."