Commentary
Bill Goldberg to host 'Garage Mahal'
Originally Published:
April 8, 2010
By
Kelley Carter
| Special to Page 2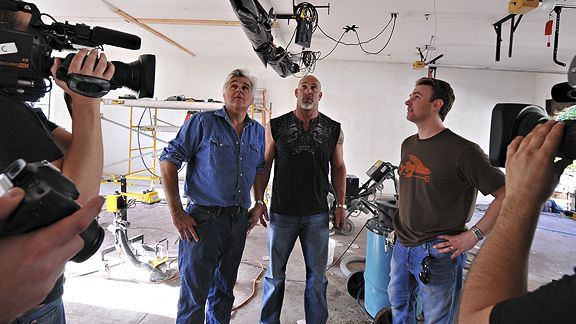 diy networksIn the season's first episode, Jay Leno talks about his garage with Bill Goldberg.
Bill Goldberg laughs, and jokes that you can, indeed, teach an old dog new tricks.
His good buddy San Diego Chargers linebacker Shawne Merriman pleaded with him to get on Twitter, he finally did, and was amazed at the tweets he was getting from fans. By and large? They would love to see him get back in the wrestling ring.
Goldberg is currently on NBC's "Celebrity Apprentice," and this week, he hosts a new season of DIY Network's "Garage Mahal," which premieres Friday at 9 p.m. ET/PT. Goldberg, a former NFL defensive tackle and a former wrestler for World Championship Wresting and World Wrestling Entertainment, talks about Donald Trump and his garage's most prized possession and addresses whether he will, in fact, go for another round in the ring.
How has being an athlete helped you so far on "Celebrity Apprentice"?
"We've got good connections. We're driven. We don't like to lose. And I think at the end of the day, probably the best asset is that we've all been a part of a team before. And we like working in a team setting. I like that much more so than being an individual at times. It's always good to have other people who you can lean on and pick you up when you're down and vice versa."
So what would you do to Donald Trump's garage?
"I don't think Donald Trump is the kind of guy who needs his garage done! I'm not too sure about just doing just any celebrity, you know? I don't think just because they're famous, they're worthy recipients. We did Leno's garage and obviously Leno's got money to do it himself. Leno's was more of an intervention. I think we're going to stay away from the big guys who's got the coin to do their own garages."
What made you want to do this show for DIY?
"My hobby first and foremost is collecting automobiles. I have a fairly nice, finished 6,500-square-foot structure that I call my garage. I'm as passionate as any car owner or car collector that has one car or 300 cars. The opportunity to do a little bit of television with a good friend of mine who is my producer and be a part of DIY, which seems to me to be a very forward-thinking network. Their programming is definitely taking a step up. I'm just honored to be a part of it. To me, it's fun. It's not like work. I get a lot of ideas, and I'm learning a lot of skills that I wasn't really efficient at before. It's very empowering."
On "Celebrity Apprentice," which charity are you playing for and why?
"I'm playing for Sons of the Fallen. Last July, I did a camp for 25 boys who lost their fathers in the war. This charity provides children with the opportunity to go to camp for a week with myself or Clint Black. We don't try to replace their significant one that they lost, but we try to lend a helping hand and try to be a shoulder to lean on and provide them with the companionship that they surely miss right now, as their father or mother have been an unfortunate victim of the war. We're trying to provide them with a wonderful experience."
Which celebrity's garage would you love to take a peek in and work on?
"There's a number of people that are on our radar screen for next season. We've already been picked up, and we're going to take a little bit of a break and then go straight into it. I think [ZZ Top's] Billy Gibbons may be a recipient. Maybe Shawne Merriman, something like that.
What's the most prized possession in your garage?
"It's a 1970 Boss 429 Mustang. I could really bore you to death, but they only made 500 of these cars and this is the only one with an automatic transmission that was ever built. There are a lot of things that make this car special. It's a piece of American history."
I read that you would love to get back in the ring. Anyone in particular you'd love to wrestle?
"At this point, it's not that I want to get back in the ring, but I have a 3½-year-old little boy, and what an experience for him to still buy an action figure with his daddy represented? The doors are kind of open to negotiation as far as a merchandising deal. If it leads to something else? It's a wonderful day. It's not something that I'm seeking out to do at 43 years old. But you know, Wrestlemania is next year in Atlanta. Hulk Hogan and I put 43,000 people in the Georgia Dome with three days' notice. I've got a fairly big following in Atlanta. Is it out of the realm of possibility? I'd say no. If not, I'm totally content with the way I went out. To be able to get merchandise out there not only satiates the fans but hopefully there have been a lot of people wondering where my merchandise is. The reason why I want to do this is my boy; just trying to be a good father."
Page 2
Kelley L. Carter is an Emmy-winning entertainment journalist who has written for publications including USA Today, the Chicago Tribune, the Detroit Free Press, Vibe and Essence magazines. She also regularly provides expert pop culture and entertainment commentary for outlets including CNN, E! and the TV Guide Channel.