Commentary
Bumper cars, lacrosse = WhirlyBall
Originally Published:
June 13, 2010
By
Matthew Lindner
| Special to Page 2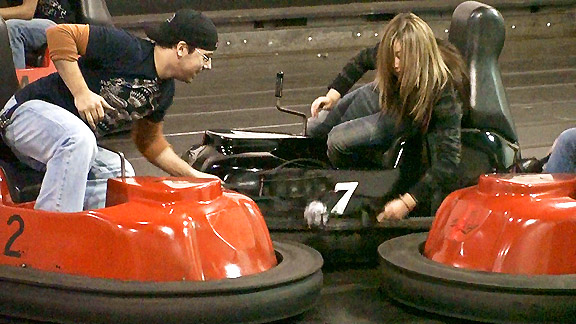 Courtesy of WhirlyBall ChicagoThe Wiffle-like ball must be scooped up, but nine times out of 10, it just gets pushed around.
VERNON HILLS, Ill. -- THUMP!
What do you get when you combine bumper cars with lacrosse and basketball?
The answer is a game called WhirlyBall, a sport seemingly born out of an 8-year-old's imagination. Picture this -- two teams of five in bumper cars in a room measuring half the size of a basketball court.
The players are all wielding equipment similar to the long, curvy cestas used in jai-alai. And the goal is simple -- gain control of the white Wiffle ball placed in the middle of the court and use the sticks to throw it through a 16-inch hole in a board 10 feet above the ground.
Sound easy? Not so much say the sport's enthusiasts.
"If you try to scoop it [the ball] up, nine times out of 10 you're gonna push it away," says John Krol, marketing director for the Chicagoland-area WhirlyBall locations. "Steering is also one of the biggest challenges. It's kind of like driving your car with the bottom of the steering wheel."
THUMP!
But once players get the hang of how to operate their chariots -- which you steer with a rudder-like contraption -- they can use them as effectively as some basketball players use their legs. And players can be penalized for goaltending, pushing off or charging -- just like in basketball.
With a minute left in a recent weeknight game in Vernon Hills, a heated game was winding down. Just like LeBron James, a player wove through several defenders, scooped up the ball, exploded (as much as that's possible at 4 mph) through a seam in the defense and flipped the ball into the goal.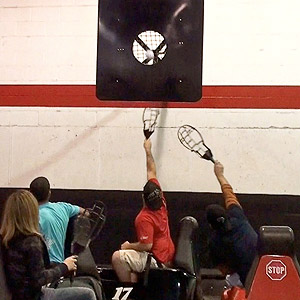 Courtesy of WhirlyBall ChicagoWhirlyBall players must try to get the ball into a 16-inch goal.
THUMP!
Just like any other sport, players say there are different strategies that can turn an ordinary rag-tag bunch of WhirlyBallers into the barons of the bumper cars.
"The strategy really is to be able to spread out and have somebody down at the other end of the court," said Jeff Camp, who plays. "If you don't have people at different ends of the court, if everybody's all congested, then nobody can move around. You've gotta keep the court open, it's kind of like soccer in that way."
Since Stan Mangum invented the sport in Utah in the 1960s, playing venues have popped up in more than a dozen locations across North America. The Chicagoland area has three locations, including the largest one in the world on the city's North Side.
Krol said corporate America has had a hand in the sport's growth -- it's a popular team-building activity that offers lessons in competition and humility.
"What's nice about WhirlyBall is that not everyone plays it that often so that when groups get together to play, they all pretty much start off on the same level playing field," Krol said.
That's exactly why Camp, a scientist at Kraft, brings his summer interns there at the beginning of their internships.
"There's a lot of competition and the competition usually brings out the best in people," he said.
Kraft intern Dennis Owusu agrees. A giant smile spread across his face as he recounted his maiden voyage into the thunderdome that is the WhirlyBall court.
"This was my first time playing WhirlyBall and it was amazing, had a lot of fun out there," he said. "It appeals to the competitor in me."
THUMP!
"You've really gotta try hard not to have fun playing a game in bumper cars," Krol said.
Matt Lindner is a freelance writer for Sports Media Exchange, a national freelance writing network.