Commentary
Chad Pennington is in business of bulls
Originally Published:
September 19, 2010
By
Andy Kent
| Special to Page 2
DAVIE, Fla. -- Somewhere in Chad Pennington's contract, there is probably a line or two about Pennington staying away from life-threatening pursuits. But the Miami Dolphins needn't worry. Pennington has developed a keen interest in bulls -- breeding that is, not riding.
Pennington got a jones for bull riding when he was quarterbacking for the New York Jets. After attending a Professional Bull Riders event at Long Island's Nassau Coliseum, he just had to find out more.
"When I went, I just really enjoyed watching the performance as well as meeting some of the people within the PBR and got the fever," Pennington said. "I was intrigued by the competition of the sport as well as the intensity and focus of the riders and the things that go on within the sport and just started asking questions about it."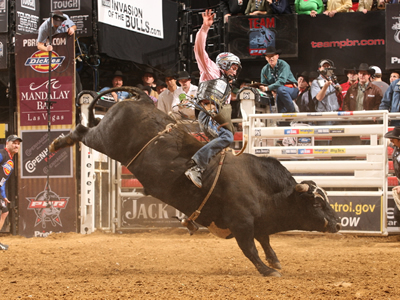 Andy Watson, courtesy bullstockmedia.comOne of Chad Pennington's bulls, #10 Bucking Bulls's Cat Man Do, was the PBR's high-money bull of the regular season last year.
Five years ago, Pennington founded a breeding stable, #10 Bucking Bulls, in Overbrook, Okla. He is now a stock contractor for the PBR.
Among the first people he met were Cody Lambert and J.W. Hart, his partners in the stable. Knowing that he wanted absolutely nothing to do with learning how to ride the 1,500-pound animals, Pennington kept inquiring about the other end of the sport. He began to gain an appreciation of the bulls not as wild animals but as carefully trained and conditioned athletes.
Within three years, Pennington's stable laid claim to the PBR's high-money bull of the regular season, Cat Man Do, and the Pro Bowl quarterback and runner-up for the league's MVP that same year (2008) with the Miami Dolphins felt a similar satisfaction as what he experienced on the gridiron. Cat Man Do was the first bull Pennington bought from Hart and the rapid success may have spoiled Pennington, but Lambert also saw another light go on inside Pennington's head.
"These animals are planned out four and five years ahead of time before they ever hit the ground and Chad's really got a knack for studying things and remembering things," Lambert said. "So when he studies these things he knows these blood lines just as good as anybody. I'm sure he knows a three-foot deep playbook of quarterback calls and knows them all like the back of his hand. … He's really engulfed himself in it and he's really moving up that ladder of bull owners in the stock contracting business."
Pennington doesn't see bull riding as a hobby or something chic to be involved in on the side. When his football career is over, he sees himself "living the simple life" and owning a ranch as he watches his sons, Cole (6), Luke (4) and Gage (1), grow up.
And Pennington plans to be just as engrossed in stock contracting as he has been in quarterback meeting rooms. His relationship with Lambert has grown stronger as a result of his commitment.
"I think he recognizes the passion that I have for the sport of bull riding," Pennington said of Lambert, "and I would like to be involved and bring some of my insight from professional football that may help. So we always have really good conversations."
Now if he can only come up with a Hail Mary play inside the ring for riders trying to stay on one of his bulls, Pennington might be onto something.
Andy Kent is a freelance writer for and co-owner of Sports Media Exchange, a national freelance writing network.