Commentary
James Jones idolized Tom Hanks
Updated:
October 15, 2010, 3:10 PM ET
By
Mario Sarmento
| Special to Page 2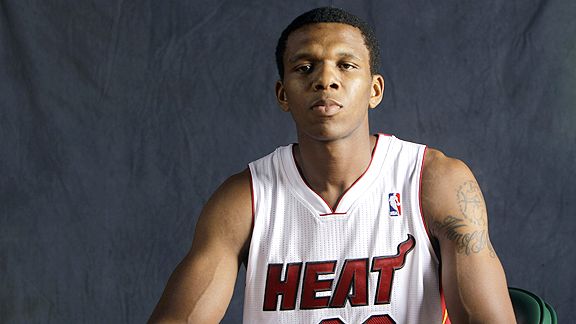 AP Photo/J Pat CarterJames Jones came back to Miami for a shot at a title.
When James Jones re-signed with the Heat in July for the league minimum, he told the Miami Herald he had "unfinished business here. ... The opportunity to win a championship was too much to pass up." Jones is a 3-point threat (39 percent career shooter) off the bench who is in his third season with the Heat and eighth in the NBA.
Jones is the first of the Heat's 12 players to share with Page 2 some insight into his off-court interests.
What is your favorite midnight snack?
A bowl of Life cereal, with a bowl of skim milk.
What was the last concert you attended?
Alicia Keys here at the Triple A [American Airlines Arena in Miami] this past summer. It was good, I love live music.
What was the first car you owned?
1992 Nissan Maxima. It was amazing -- six-speed manual. It was the SE, one of the fast ones. About 180 on the dash. I couldn't drive that fast, not on regular unleaded.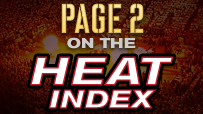 Be sure to check out Page 2's spin on the happenings of the Miami Heat:
• Q&A: Mario Chalmers admires Jordan
• DJ Khaled not worried about his Heat
• Q&A: Carlos Arroyo on being unique
• Q&A: Joel Anthony loves his BlackBerry
• Q&A: Juwan Howard idolized Dr. J
• 'Don't Hate Miami' defends city's honor
• Seikaly: Chemistry hurting Heat
• LeBron's stylist talks NBA style, tips
• Q&A: House wants Obama's number
• 'Grandmothers' standing by LeBron
• LeBron Poetry Contest's famous losers
• LeBron Poetry Contest claims winner
• Is this man a LeBron lookalike?
• Collectors eye first LBJ card with Heat
• Prose flows in LeBron Poetry Contest
• Hill: Miami is now LeBron's town
• Miami mayor: Heat to silence critics
• Seikaly: Why all the fuss?
What is the movie you can't see enough?
"Life" with Eddie Murphy and Martin Lawrence. Just because it's a comedy, it's just vintage Martin and vintage Eddie. Humorous, real vulgar, it's kind of a classic. Actually, two movies. "Gladiator," I love that movie too.
What person's cell phone would you most like to have?
Richard Branson, because he owns a cell phone company (Virgin Mobile), so he's a good talker (laughs). No, because he's a self-made entrepreneur, a guy who's had a lot of success, lot of failure in telecommunications and entertainment, a lot of things that are part of our industry of professional athletes.
If you had one place you could escape to for a week, where would you go?
My wife's from Barbados. I love Barbados. It's a place that's different. It's a Caribbean island that has a strong British influence. It's like going to Europe, but also being in the middle of paradise with the white-sand beaches and the breezes.
What's your most prized possession?
My iPhone. I have all the videos of my kids, pictures of my family. Kind of like my multimedia station. My family -- my kids, my wife -- they mean the world to me.
Who did you want to grow up to be like?
Professionally, I wanted to grow up to be like Reggie Miller. Love Reggie Miller as a player, he's an outstanding individual. I actually had the chance to play with him as a rookie [with Indiana], so he's someone I admired and had a chance to work with. As a person, growing up, I admired Tom Hanks. As an actor, he really did achieve a lot unexpectedly. No one expected him to rise to the level where he did ... to me, he's a Hollywood success story.
Mario Sarmento is a freelance writer for Sports Media Exchange, a national freelance writing network.