Commentary
Seen and heard from ESPYs red carpet
Originally Published:
July 13, 2011
By
Sam Alipour
| Page 2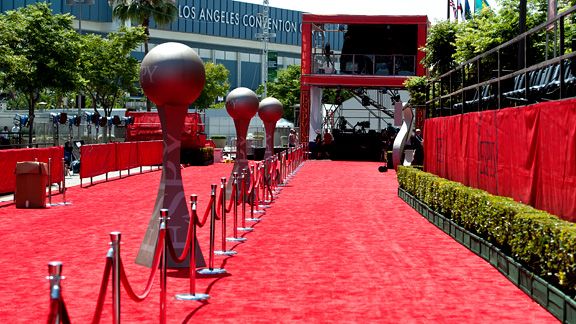 Courtesy Joe Faraoni A quieter time on the ESPYs red carpet, before Justin Bieber arrived, anyway.
LOS ANGELES -- Some quick notes and quotes from the ESPYs red carpet:
• Athletes flock to the ESPYs to celebrate the greatest achievements in sports, sure, but they're down to meet some women, too. "We want to meet Anna Kournikova," Zach Randolph says. "And Maria Sharapova," Grizzlies teammate Mike Conley Jr. adds. "One of them will do."
• The magnitude of Adrian Peterson's celebrity crush would crush them all. "I have to meet Halle Berry," the Vikings running back says. "She's a gorgeous woman. I don't kiss feet at all, but she has good features and her feet are one of those features. So, you know, I'd kiss her feet."
• Brian Wilson, with his wooly beard and what appears to be a form-fitting, once-piece tuxedo, will take home Wackiest Look honors, but the Giants pitcher wasn't alone in standing out on the carpet. "I'm trying to bring back the '80s gold nuggets," Amar'e Stoudemire says of his large and very yellow necklace. Meanwhile, Shawn Marion of the Mavs says his new NBA championship ring is a license to dress in a blue-and-white Mavericks-colored suit: "We're world champions. We're allowed to be a little different. I don't want to dress like everybody else. To be a world champion is the best feeling you could have. I enjoy life anyway, but I'm going to enjoy it a little bit more now that I'm a champion."
• Word is, the NFL lockout is nearing its end -- and not all gridders are happy about this development. "I guarantee you, some guys want the lockout to last a little bit longer," one NFL player says. "I know I do. A lot of us aren't done vacationing."
• World-class athletes do not lack confidence. Sarah Burke, for one, liked her chances of winning Female Action Sports Athlete of the Year. "I've already cleared out some space for the award," she said. "It'll go next to my other one, hopefully." (Stephanie Gilmore ended up winning.) Equally optimistic: the Packers, who were up for Best Team and were not above planning their speech in advance. "Aaron [Rodgers] will be doing the talking," Donald Driver said. "You always put it on the quarterback. But what he usually does at the end of his speeches is pass the mike to me, and I'll just say, 'Thank you, everybody. We won it.'" (The Dallas Mavericks took home the trophy.)
• Lindsey Vonn is an ESPYs veteran, but she'll geek out, anyway, thank you very much. "This is awesome," the skier says. "I just love coming to the ESPYs. I get to rub shoulders with so many interesting people, play golf with Tim Tebow. And when athletes give me their phone number, I'm like, 'Wow, you really want to give me your phone number?' Luckily, my husband doesn't care. He knows how fun this is for me."
• Even as wide-eyed BYU standout Jimmer Fredette attempted to find his red carpet legs, he was thinking ahead to his rookie season. "I have NBA range, which is good," he says. "Hopefully that'll translate over. Obviously, I have to continue to get stronger. Some of that will come with age. But I'll continue to get stronger and continue to get better."
• Bringing up the rear on the red carpet: Hawks All-Star Joe Johnson, whose interview was drowned out by the late arrival of a certain pop star, one Justin Bieber, and the eardrum-bursting squeals that followed his every move. "I can see how these girls love him," Johnson said. "Plus, he's a great, great performer. I'm not saying I have his CD, but I'm a fan."
Sam Alipour is a contributing writer to ESPN The Magazine and ESPN.com. You can reach him at sam.alipour@gmail.com and follow him on Twitter here.