Commentary
Brian Wilson's outfit could save baseball
Updated:
July 17, 2011, 10:48 AM ET
By
Jerry Greene
| Special to Page 2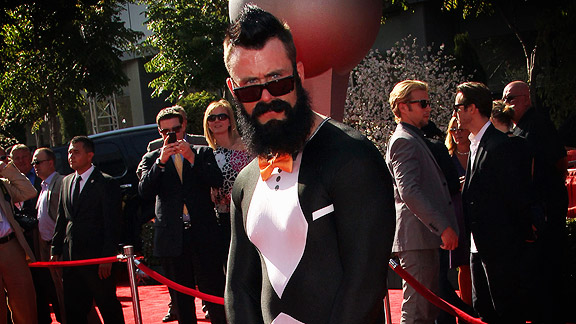 Frederick M. Brown/Getty ImagesBrian Wilson wore a skin-tight suit to the ESPYs. Now baseball needs that.
Were you watching the ESPYs, Bud Selig? You should have been, because Brian Wilson showed us how to save baseball's All-Star Game.
One word, Commissioner: embarrassment.
Clearly that was why Wilson chose to walk the red carpet wearing a skin-tight, one-piece Spandex tuxedo. He was taking a bullet for baseball by showing us how embarrassing it would be to go to work like that every day -- even without the beard.
So forget winning home field in the World Series. Everyone knows that only helps the Red Sox or Yankees in the American League -- and the Yankees still don't show up for the All-Star Game anyway. In the National League it can help Philadelphia or maybe Atlanta, but the Braves will choke even if they do get home field.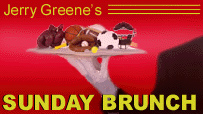 So create a situation that threatens everyone: The losing league must wear Spandex for the rest of the season. And that includes the managers, which would really be a sight to see -- or not.
One more thought: The commissioner wears Spandex no matter which league wins. After all, you did say you would be retiring soon, right?
Now a few more notes from the week that was before moving on to the Brunch's main courses prepared by some of our best:
• My apologies if this is late appearing on Page 2. I'm still stuck in traffic outside the Kentucky Speedway.
• Hey, Roger Clemens, nobody is watching -- go ahead and laugh.
• Let's have a Tweet Showdown over Derek Jeter stiffing the All-Star Game. First up, Newsday's Neil Best: "Jeter should throw MLB a bone and announce he'll at least watch the All-Star Game on TV." And now The Big Lead's Jason McIntyre: "Haven't heard a fan talk about/care about Jeter missing the All-Star Game. Totally a media-created story. Media desperate for a hook."
• Come on, James Harrison, how do you really feel?
• If I ran a Chinese basketball league and wanted to induce Dwight Howard to play, I'd make one rule change: No free throws, just penalty dunk shots.
• And the one guy I missed at the All-Star Game was Ricky Vaughn. Winning!
Hear the bell? The main courses of the Brunch are hot and on the table. Let's dig in.
• We start with the random evidence of good humor that is Greg Cote's blog for The Miami Herald, including the results of a poll of sports' really annoying celebrities. Place your bets on where Brett Favre and LeBron James placed here.
• If you haven't wanted to hear about the NFL lockout, how must you feel about the NBA version? But Dave D'Alessandro of The (Newark, N.J.) Star-Ledger finds humor in what is being said when we can't talk about, you know, basketball here.
• From The Star-Ledger to the Fort Worth Star-Telegram, where Charean Williams lists the NFL teams that will benefit and the ones that are in big trouble due to the lockout. Essentially she expects the top dogs to stay on top here.
• Speaking of the NFL, what did you think of James Harrison's magazine rant? Mike Lopresti of Gannett wonders why in this age of technological sophistication, all we can do is froth at the mouth here.
• In closing, surely you'll be pulling for the U.S. team in Sunday's women's World Cup final? But Matt Pepin of The Boston Globe has bad news -- a German elephant is picking Japan. Not as bad as having an octopus pick against us, but still something to worry about, right? Read it here.
Aw, forget the elephant. USA! USA!