Party of Five looks overseas
Originally Published:
July 20, 2011
Page 2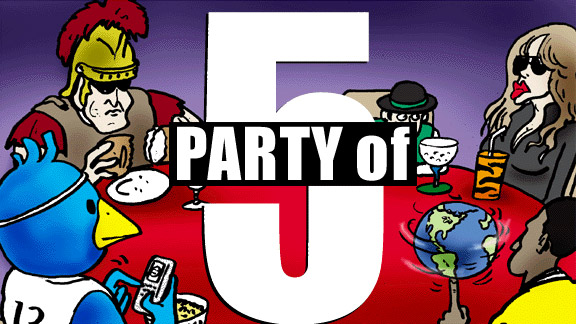 Kurt Snibbe/ESPN.com
Welcome to another edition of Page 2's Party of Five, where five writers tackle five questions that the world needs answered right now.
(Or later, depending on how much time you have to kill.)
Today, we'll discuss Kobe Bryant's Turkish suitor, Twitter records, USC running back Marc Tyler, Northern Island's golf domination and Tiger Woods' hush money refund.
1. The Turkish team that signed Deron Williams has put its pursuit of Kobe Bryant on hold. Does this mean you won't root for Besiktas this year?
Patrick Dorsey: Why not? Hard to go against a team with such a catchy 2011-12 slogan: "Besiktas J.K. -- We might not have Kobe, but at least now the rest of us will get the ball once in a while."
Vincent Thomas: Kobe or no Kobe, the squad seems bush-league. Soccer scandals are one thing, but don't not pay Lonnie Baxter. If FIBA has to force the squad to pay journeymen, why would Kobe expect for them to cut monthly checks for a mil?
DJ Gallo: I'm sick of all these Besiktas J.K. bandwagon fans. I've been a diehard of Fenerbahçe Ülker since way back in 2010 when they won the Turkish league title.
Jim Caple: This is why we need a salary cap in Turkey. So Besiktas J.K. can compete on a level playing field with Fenerbahçe Ülker.
Michael Philbrick: Just the opposite. Any person or organization that feels it is in their best interest to NOT give Black Mamba the time of day gets my unconditional support.
---
2. Twitter's tweets-per-second record was broken during the Women's World Cup. What will break the record next?
Dorsey: Easy. Will and Kate announce their next vacation on live TV, and the Twitterverse explodes as they say: "We're taking our talents to South Greece."
Thomas: When Casey Anthony tweets pics of her partying on Orange Ave with the Van Gundy brothers.
Caple: Yankees sign Charlie ("Wild Thing") Sheen to replace Rivera as closer.
Philbrick: When the NFL's plan to keep the Super Bowl halftime show safe by using older acts comes full circle and we see a Justin Timberlake-Janet Jackson reunion.
Gallo: Famed South African Colombian pop singer Shakira sang the 2010 World Cup anthem. If Justin Bieber is chosen to sing for the 2014 tournament, that would probably do it. Although the chances that Justin Bieber AND Twitter are still both relevant in 2014 are pretty slim.
---
3. USC has suspended running back Marc Tyler because of comments he made to TMZ, including saying USC was "breaking bread" in regard to paying players. Should he have been suspended?
Dorsey: Tyler was misquoted. He really said the Trojans were watching "Breaking Bad." Of course, upon learning this the NCAA will investigate, believing the show to be a violation of its anti-drug policy.
Thomas: "University of Sexual Ballers" was a far worse crime. He should be on a season-long gag order for that one.
Caple: I'm just guessing but I doubt USC will be issuing sideline credentials to TMZ this season.
Philbrick: Why not? It's not like the Trojans are playing for anything this year anyway. Why not throw in a postseason ban and make him give back any memorabilia he has from the 2005 BCS title.
Gallo: Yes. And USC may be in serious trouble. Utah basketball coach Rick Majerus once got in trouble with the NCAA for buying Keith Van Horn a meal after the player's father died. So if someone at USC has been giving Tyler some bread -- and breaking it for him! -- the program might get the death penalty.
---
4. Three of the last six golf major winners are from Northern Ireland, which has a popularion of 1.7 million. Is Northern Ireland the center of the golf world?
Dorsey: That whole island has always been golf-crazy. In fact, my ancestors left not due to the potato famine, but because they couldn't get a decent tee time.
Thomas: Yep. Can we get to the bottom of why, though? Studies were commissioned when Kenya started dominating marathon races. We have to find out why and how these Northern Ireland blokes are taking over.
Caple: Are there any Perkins or Waffle Houses in Northern Ireland?
Philbrick: It may look that way, but it's just one of those fads like Beanie Babies, silly bands or the Internet.
Gallo: Nebraska's population is 1.7 million. Idaho's is 1.5. West Virginia's is 1.8. The problem is not Northern Ireland. The problem is that too many of our states have been getting a free ride for far too long. Start producing some elite golfers, West Virginia, or get out of the country.
---
5. Rachel Uchitel has given Tiger Woods back most of the settlement money he paid her because of her appearance on a reality show. Does anyone win in this outcome?
Dorsey: Tiger certainly doesn't. Wait, nevermind. I thought we were talking about golf.
Thomas: Uchitel is the loser in this one. Since when is going on "Celebrity Rehab" to treat "an addiction to love" worth millions? Although, you know the tell-all book is coming. And it'll be salacious and a best-seller. Tiger better move to Northern Ireland and start winning some tournaments.
Philbrick: So by giving the money back, Rachel can now tell her story, right? And all she did to violate this was go on "Celebrity Rehab" because she was "addicted" to love (even though she never mentioned Tiger Woods). If that's the case, then Tiger wins by maintaining his title as the cheapest multimillionaire in history.
Gallo: Perkins Restaurants is the winner. $10 million buys a lot of breakfasts.
Caple: All these comments are well and good, but does Nancy Grace feel justice has been served?