Commentary
Q&A: Michael Rapaport on new film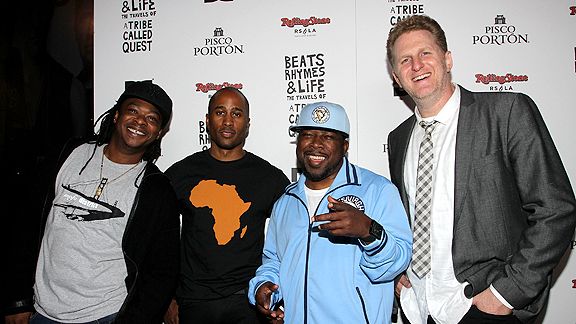 Valerie Macon/Getty ImagesJarobi White, Ali Shaheed Muhammad, Phife Dawg and Michael Rapaport at the film's premiere.
If you ask Michael Rapaport if Philadelphia Phil -- the Philly Eagle-lovin' character he played in "Big Fan"-- is sorta-kinda like him, he'll say sorta-kinda but not really.
The difference is the real Rapaport is a sports fan, but not a sports fanatic. There's a fine line differentiating the two. And in his directorial debut film -- "Beats, Rhymes & Life: The Travels of A Tribe Called Quest" -- Rapaport had to balance his time between documenting the dynamics of one of hip-hop's greatest groups and, in his own words, "caring more about the destruction and demise of the Boston Red Sox than anything else in sports."
Rapaport talked to Page 2's Scoop Jackson about the film, which includes interviews with all four original Tribe members -- Q-Tip, Phife Dawg, Ali Shaheed Muhammad and Jarobi White -- and the connections with the group and sports.
People who know Tribe always associate Phife with sports because he always seemed to incorporate sports or sports figures into his lyrics. (Favorite: "I'm Jordan with the mike, wanna gamble?") But everyone sleeps on Q-Tip. In "Check The Rhime" alone, he drops two gems with "Got the scrawny legs but I move just like Lou Brock," and "Pass me the rock and I'll score 'em with decorum." In doing the film did you discover that Q-Tip was a sportshead too?
I've been to Knick games with Tip. He knows his stuff. He's a big Jets fan, so ... he's as much into [sports] as Phife, he just doesn't talk about it as much. He's very passionate about it. I sat right next to him at the All-Star Game in San Francisco [in 2000] when Vince Carter won that dunk contest. Yeah, he's a huge basketball fan too. You know, we all had hoop dreams growing up. We all wanted to be in or have something to do with sports. The fun thing about Tribe and Tip and Phife is that they were able to put it on record, like they'd drop all of these [sports] references and stuff like that. They're both definitely into it heavy.
Can hip-hop be considered a sport?
I think hip-hop is not a sport, but it does have a sports mentality. In terms of being the best, kicking ass, it definitely has that mentality. Especially the golden era of hip-hop, the great MCs battling. L.L. [Cool J], you know, "I wanna crush you." Wanting to be the best. Michael Jordan to Joe Namath to Willie Mays to Joe DiMaggio to numerous other people, I think the similarity in mentality of it is the same. Being No. 1. It's talked about all of the time in hip-hop. "I'm still No. 1! I'm the best! I'm the greatest of all time!" It's the same mentality in sports.
If Native Tongue [the collective unit A Tribe Called Quest was a part of that included Queen Latifah, De La Soul, the Jungle Bros., Brand Nubian, Black Sheep, Monie Love, Chi Ali, Leaders Of The New School] was a sports team...
Oooohhh ... uh-oh.
What team would they be in the history of sports?
That's a good question. Wow. I'd love to hear your opinion on that. [Long pause] You're going to think I'm crazy, you're going to be like, "What?" But the one team that came to mind -- and if you really know the details of the team, then you'll know what I'm about to say will make sense -- is ... the '86 Mets. Their personalities were so different, but ... damn, that's a great question...
I have one better: Native Tongues vs. The Juice Crew [another legendary crew in hip-hop consisting of, but not limited to: Big Daddy Kane, Kool G Rap, Biz Markie, Craig G., Masta Ace, MC Shan, Roxanne Shanté, Tragedy, Marley Marl]. I mean, if we are going to look at hip-hop as a sport, let's put squads against squads.
Oh, Jesus Christ! I'd have to go with Native Tongue over the Juice Crew. First of all, the amount of MCs, the longevity ... oh, that's tough. At the end of the day, I'm going to say, in a seven-game [MC] series, it'll be Native Tongues. But it would be a bloodbath, a 15-round fight. It'd be Ali-Frazier.
Native Tongues vs. Death Row? [Members: Dr. Dre, Tupac, Snoop, the Dogg Pound, Lady of Rage, Nate Dogg, the D.O.C.]
Against Death Row? Death Row, they had a good run, but they would have imploded. [laughs]
Vs. D.I.T.C.? [Members: Diamond D, Show & AG, Lord Finesse, Fat Joe, Big L, OC, Buckwild]
They're good, they're great, but they never pushed it over the top like Native Tongues. But if this battle were a sport, D.I.T.C. would be like Dallas [Mavericks] up until Dallas won the ring.
In the film, Tip and Phife almost come to blows. If that ever happened, if Tip and Phife ever got into a fight, who would you put your money on?
Goodness! Man, I wouldn't even wanna watch that. That would be terrible. I'd rather see them play one-on-one. Basketball. Now, I've never seen either one of them play ball before, but I'm sure it would be like one of those games I used to play when I'd play uptown. No blood, no foul. No broken bone, no foul. I know that Tip boxes, and if it happened, Phife would probably bring a baseball bat to the ring [laughs] -- but no one wants to see them fight. I don't think they'd even want to fight each other. Just play a nice game of one-on-one. And Ali Shaheed could ref the game to keep everything in order.
Scoop Jackson is a columnist for ESPN.com.