Commentary
Statue of the week: Steve Williams
Originally Published:
July 22, 2011
By
Kurt Snibbe
| Page 2
Page 2's Fictional Statue of the Week now turns to you, dear readers, to help us decide which sports newsmaker deserves to be immortalized. This week's suggested subject, esteemed caddie Steve Williams, comes from user wheels21m.
Check back next week on Monday and Thursday in the Page 2 blog as we ask for suggestions for next Friday's statue.
Page 2's Fictional Sports Statues of the Week:
Week 1: Jim Tressel | Week 2: Charles Barkley (golf) | Week 3: Zach Randolph
Week 4: Kareem Abdul-Jabbar | Week 5: Chad Ochocinco | Week 6: Miami Heat
Week 7: Mavericks forward Brian Cardinal | Week 8: Canucks goalie Roberto Luongo
Week 9: New York Yankees | Week 10: Bye | Week 11: Deron Williams
Week 12: Legendary caddie Steve Williams | Week 13: The invocation of pastor Joe Nelms
Week 14: Randy Moss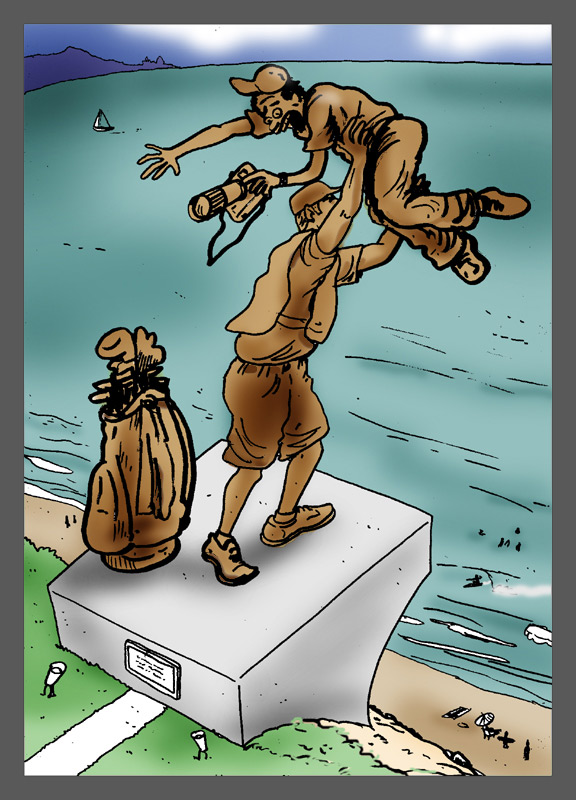 Steve Williams
Location: Torrey Pines Golf Course, San Diego -- edge of the green at the third hole on the South Course, high above Black's Beach. (Woods won six tournaments with Williams on the bag at Torrey Pines, including the 2008 U.S. Open.)
Plaque Inscription: This statue stands in tribute to legendary caddie Steve Williams, who helped Tiger Woods to 72 career victories by eliminating distractions caused by annoying shutterbugs, chirping birds, crying babies and Phil Mickelson.
Text by Thomas Neumann.