Commentary
MLB players study video with iPad app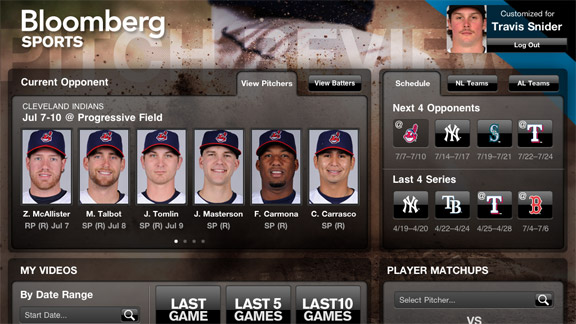 Bloomberg
If you want to access Bloomberg Sports' newest iPad product, there's only requirement: You have to play in the major leagues.
After entering the sports business just over a year and a half ago, Bloomberg has quickly found success with its fantasy tools as well as analytics and video products targeted specifically for professional team and broadcast use. The company even earned a spot on Fast Company's "Ten Most Innovative Companies in Sports" list in 2011.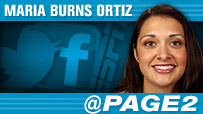 In an effort to continue that innovation, the company spent hours talking to players, coaches, front office personnel and other industry insiders to figure out what they could offer next. One recurring theme that came up was video preparation, an essential part of a player's pregame preparation. When in the clubhouse, video coordinators provide video for players to study. However, away from the stadium, players didn't have that same access. Until this season.
"Pitch Review" is a program customized for each player that gives him individualized stats and video rights on his iPad.
"For example, today we're facing Tim Wakefield," Blue Jays outfielder Travis Snider said, demonstrating the program before a recent series against the Red Sox. "I just click on his picture, and it loads all my at-bats versus Tim Wakefield. I can click on my last five games, 10 games. You can go through and highlight specific at-bats where you put a good swing on a ball or something you'd like to remember in the future."
Players can highlight specific pitch types, hit types and scenarios varying from one runner on base and two outs to three runners on base and no outs. In short, the filter possibilities are almost endless. Hitters also can watch not just how they've done against a pitcher, but how he's thrown against similar hitters.
Hitters can watch themselves against the pitcher they'll be facing that day. For pitchers, the application provides them with the lineup they're expected to face. So if Rangers starter C.J. Wilson is facing the Angels, when he opens "Pitch Review," it's cued up to show him how he's pitched in his past outings against the entire lineup.
So far, almost 100 players are using the product, including Wilson, Snider, Yankees outfielder Nick Swisher, Cardinals first baseman Albert Pujols, Phillies pitcher Roy Oswalt and Milwaukee pitcher Zack Greinke.
"The first month or two, we got a lot of feedback about making sure it loaded quickly, making sure the interface was easy," said Bill Squadron, head of Bloomberg Sports. "I would say in the last six weeks, the most common, almost unanimous response I've seen in the reports I've gotten were, 'This is sick.'"
The biggest advantage is accessibility.
"I like it because I don't like to get away from my locker," Blue Jays catcher Jose Molina said. "You just get it on your iPad and open it up and see it right here. It's just one of those things that you really want to have for yourself."
Making sure that the technology was accessible and something players felt comfortable using was also key.
"I had just got an iPad, and when the people from Bloomberg came and broke down how to use the app, it was an exciting thing to see how convenient it would be to use anywhere, anytime," Snider said. "You talk about technology, and I'm not real in tune with all that. I was very impressed by how easy it is to use. It's very self-explanatory."
Bloomberg has solicited feedback from the players throughout the season in an effort to improve the product. The updated version of "Pitch Review" incorporates as much of that input as possible. Based on player input, Bloomberg accelerated developing slow motion for the application.
"It's something I've shown around and guys thought it was pretty cool," Snider said. "It's exciting for everybody to see technology and the game of baseball advance in the way it is."
Since the product's initial launch, it's attracted new users mostly through word of mouth. Currently, players are using it on a free trial basis. Bloomberg plans to monetize "Pitch Review" down the road.
"[When the trial period is over], hopefully, the price won't be too high," Molina said. "I'll probably do it anyway because I like it."
Bloomberg's iPad player application is another example of how technology is changing baseball. The consumer base might be small, but it also appears to be a loyal one.
An emerging trend?
To anyone following Chad Ochocino on Twitter, it should come as no surprise that he tweeted about his police stop in Cincinnati last week.
"Just got pulled over by Cincinnati police for my window tint being to dark? Does this qualify as being in trouble," the Bengals receiver tweeted with a photo.
Soon after, Ochocino posted a summary of the encounter.
"Officer ask:Why are your tints so dark?Reply:Kind sir with all due respect I'm allergic to the sun.Officer:here's your citation.Reply:Damn," Ochocinco wrote.
Ochocinco has been among the pioneers of sports and social media, but Darnell Dockett leads the way in live-tweeting a police stop. The Cardinals defensive end -- if you're not following him on Twitter, you should be -- posted a lengthy (by Twitter standards anyway) dispatch on a traffic stop in late June.
"I don't know why the police always messing w/me I'm never gonna let them search my car with out a search warrant! No matter what!" Dockett wrote in the first of 12 tweets on the stop, adding the officer said he'd initially pulled him over for speeding.
The final outcome, according to Dockett: "No ticket and I didn't get punk by PO-PO today now I'm off to my 2nd work out! Police aint searchig my sh*t with no warrant "holla at me"!"
It might not have gone viral yet, but it's a safe bet this isn't the last athlete-law encounter we've seen chronicled on social media.
Tout -- beyond Shaq
Shaquille O'Neal's retirement announcement via Tout put the social media company on the radar of fans. Now athletes everywhere are embracing it.
Soccer fans from around the world had the chance to ask L.A. Galaxy star David Beckham questions to be answered on Monday's "Good Morning America" by posting them on Tout and tagging them with #ToutBeckham. You can check out all the questions -- including the ones that didn't make the cut -- on Tout.
For fans of the other kind of "football," several NFL players also are sharing snippets of their lives with fans on Tout. New Orleans Saints defensive end Cam Jordan, Buffalo Bills receiver Stevie Johnson, Carolina Panthers running back Jonathan Stewart and Seattle Seahawks running back Justin Forsett are all using Tout.
Elsewhere in the social mediasphere
China relaxed some of its Internet restrictions during the 2008 Olympics in Beijing, but that's not the case for the ongoing FINA World Championships. Swimmers and divers from around the world have virtually no access to their social networks while competing in China. … Given Dallas Mavericks owner Mark Cuban's tech background and his avid use of social media, it's no surprise he's an early user of new social network Google+. While few athletes and sports personalities are active users of Google+ so far, other early adopters of the site (or those who at least have accounts) include Floyd Mayweather and Carmelo Anthony. … When it comes to social media, basketball dominates. According to the 2011 Catalyst Fan Engagement Study, NCAA basketball fans are the most digitally connected. NBA fans are second.
Got a story we should feature? Have a site we should check out? Who's on your must-follow list? Tweet me at @BurnsOrtiz. If your idea gets mentioned in this column, so will you. Follow Page 2 on Twitter at @Page2.
Maria Burns Ortiz is based in Boston.