Commentary
MLB trade rumors you simply can't trust
Originally Published:
July 27, 2011
By
Jim Caple
| Page 2
The July 31 trade deadline is a lot like the Christmas shopping season. By that, I mean every year the rumors start earlier and earlier and are hyped more and more. Yet you're ultimately disappointed by what your team receives, and the very next day the rumors start raging over the Aug. 31 deadline.
For all the stories, chats, tweets and nonstop hyperbole, though, the trade rumors are as rarely consummated as the sexual fantasies of my youth. And those that are completed seldom make a significant difference to a team's stretch drive.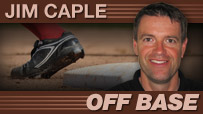 So rather than obsess over the frequently rumored trades that will never take place, let's instead focus on some deals that haven't been rumored about -- and won't happen, either:
Philadelphia trades Ben Francisco to Cleveland for Rick "Wild Thing" Vaughn: Cleveland gains a needed outfielder to compensate for the injured Grady Sizemore and Shin-Soo Choo. The Phillies gain a dominating closer who knows all about #winning. Caution: Vaughn comes with potential substance-abuse and anger-management issues.
Yankees trade Jesus Montero to Tampa Bay for Ebby Calvin "Nuke" LaLoosh: The Rays, gradually falling out of the race, get a top prospect whose salary would be very manageable for several seasons. The Yankees get a million-dollar arm who could make the jump from Class A all the way to the majors by the end of the summer if the right mentor gets through to his 10-cent head. Caution: LaLoosh also could be a candidate for a torn labrum or Tommy John surgery because, as others have pointed out, he apparently has no pitch limit at the Rays' farm club in Durham, where he struck out 18, walked 18 and hit the mascot in a single game.
Tigers trade Jacob Turner and cash to Mets for Sidd Finch: The Mets get a top pitching prospect plus financial help to meet payroll. The Tigers get a mysterious French horn-playing pitcher whose fastball supposedly can hit 168 mph, though that must be based on those bogus scoreboard readings that inflate a fastball so much even Tim Wakefield gets clocked in the mid-90s.
Frank and Jamie McCourt sell the Dodgers to Cleveland's "Major League" owner Rachel Phelps: Los Angeles fans get an owner who is more dedicated to building a winning team and treating fans with respect than the current owners.
San Francisco trades Zach Wheeler to New York for Roy Hobbs: New York gets a needed pitching prospect. The Giants get someone even better than Carlos Beltran: a clutch hitter who can literally knock the cover off a ball and turn light towers into Fourth of July displays. However, Hobbs has suspiciously gained staggering power at an age when even his manager acknowledges most players retire. On the other hand, the Giants put up with Barry Bonds for years, so this shouldn't be that big an issue.
The Mariners trade Felix Hernandez for Kelly Leak: The Bad News Bears gain one of the game's best pitchers, who won't take any crap from Joey Turner and the Yankees. The Mariners gain a needed power hitter who should just about be ready for the majors when the team is finally ready to contend again.
The Cubs trade Carlos Zambrano to Washington for Shoeless Joe Hardy: Washington gets a veteran starting pitcher who can provide a clear example to Stephen Strasburg of how NOT to behave. The Cubs get a seven-tool player who can run, hit, hit for power, catch, throw, sing and dance. Caution: Hardy's soul-selling deal with the devil has a little-known codicil that prevents him from playing in a World Series. This, however, will not be a problem with the Cubs.
And now, please return to ESPN.com's baseball page for all the latest and most important trade rumors ...
CSI: BOX SCORE
You know the rules. You get a fragment from an old box score and the challenge of determining what game it is from and why it is significant. I give this one a difficulty rating of 8.0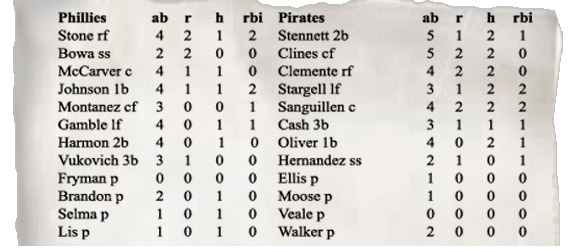 Kurt Snibbe for ESPN.com
BOX SCORE LINE OF THE WEEK
Texas outfielder Nelson Cruz had eight RBIs on Friday (4 AB, 1 R, 4 H, 8 RBIs), and two days later the Rangers had 20 runs and 27 hits off the Twins, including emergency reliever Michael Cuddyer (1 IP, 2 H, 0 R, 0 ER, 1 BB, 0 K). The Yankees scored 17 runs Friday, but Phil Hughes didn't last long enough to qualify for the win (4 1/3 IP, 9 H, 7 R, 7 ER, 4 BB, 3 K), though Oakland starter Trevor Cahill easily qualified for the loss by allowing 10 runs (2 IP, 9 H, 10 R, 2 BB, 2 K). And CC Sabathia added to Seattle's misery by holding the Mariners hitless into the seventh inning of their 17th consecutive loss (7 IP, 1 H, 1 R, 1 ER, 3 BB, 14 K).
This week's winner, however is White Sox reliever Sergio Santos, who ended last Wednesday's game without officially facing a batter. How? He took over with runners at the corners, Billy Butler at the plate for Kansas City and the game tied 1-1 in the bottom of the 11th. Santos threw a wild pitch that scored Alex Gordon from third with the game-ending run, leaving Butler with an incomplete plate appearance and Santos with this award-winning line:
0 IP, 0 H, 0 R, 0 ER, 0 BB, 0 K, no batters faced
According to colleague Doug Kern, Santos is the third pitcher this season to end a game without officially facing a batter -- Cubs closer Carlos Marmol ended a game with a wild pitch a couple of weeks ago, and the Rangers' Darren Oliver ended one with a pickoff in April.
[+] Enlarge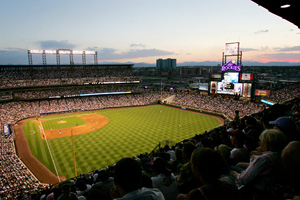 Doug Pensinger/Getty Images)The days of the old Blake Street Bombers have come and gone, but Coors Field remains a splendid spot to take in a ballgame.
BALLPARK RANKINGS
Coors Field, Colorado: This is a lovely brick structure in a dynamic downtown neighborhood with plenty of parking, distant views of the Rockies (mountains) and much better views of the Rockies (the baseball team). It also has splendid amenities, including a brewpub that creates the finest beer you will ever drink at a ballpark, unless a major league team starts playing at a Trappist monastery in Belgium. I had a beer there called Second Hand Smoke, which tasted like barbecued bacon. That might sound bad, but it actually was so wonderful as a beer that I keep pulling for Colorado to return to the playoffs so I can get more. All that beer could also help you get down some of the Rocky Mountain Oysters sold in the concession stands.
Score: 87. Current Rankings:
1. PNC Park, Pittsburgh 98
2. AT&T Park, San Francisco 94.
3. Oriole Park at Camden Yards, Baltimore 92
4. Target Field, Minnesota 91
5. Wrigley Field, Chicago 90
6. Dodger Stadium, Los Angeles 88
7. Safeco Field, Seattle 87
7. Comerica Park, Detroit 87
7. Coors Field, Colorado 87
10. Kauffman Stadium, Kansas City 86
11. Progressive Field, Cleveland 82
12. Busch Stadium, St. Louis 78
13. Rangers Ballpark in Arlington, Texas 77
14. Chase Field, Arizona 76.5
15. Nationals Park, Washington 76
16. Rogers Centre, Toronto 75
17. Oakland-Alameda County Coliseum, 74
18. Tropicana Field, Tampa Bay 68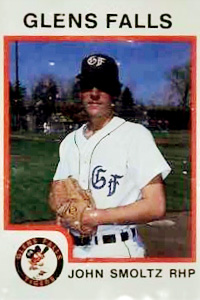 ProCards
BASEBALL CARD OF THE WEEK
Here's a card that may be a little painful for Detroit fans. It's the John Smoltz card from the team set of the 1987 Double-A Glens Falls Tigers, when he was still in the Detroit organization. The Tigers infamously traded Smoltz to Atlanta for Doyle Alexander that summer. Now, no one was complaining about the trade that year, when Alexander went 9-0 with a 1.53 ERA and pitched Detroit to the AL East title. Unfortunately, the Tigers lost the ALCS to the Twins that year and didn't return to the postseason for almost two decades. Meanwhile, Smoltz developed into one of the game's best pitchers, winning 214 games and saving 154 more, earning a Cy Young, making the NL All-Star team eight times and helping Atlanta to 14 postseason appearances.
Just consider it a cautionary note while you dream about trading for that star player who will make all the difference for your team this year.
YEAH, WELL, THAT'S JUST LIKE YOUR OPINION, MAN
Some of us wouldn't have voted for Jefferson or Lincoln, either: Bert Blyleven has a fair beef with the Baseball Writers Association of America for taking 14 years to elect him -- "It's like, 'Hello, Do your homework!'" he told reporters after his induction -- but I think we're getting better in our voting. Don't believe me? Consider this: 11 writers did not vote for Babe Ruth when he was on the first Hall of Fame ballot. What could have been their reasoning? Awww, that fat pig didn't respect the game. All he did was drink and eat and fart and swing for the fences. He wasn't a pure hitter, like the great Wee Willie Keeler. ...
Plaque buildup: A couple more thoughts from Cooperstown. The text on the Hall of Fame plaques is a lot wordier than it used to be (and the type is a lot smaller, too). You could almost tweet the entirety of the oldest plaques. I love Ruth's plaque, which concisely states, "Greatest drawing card in history of baseball. Holder of many home run and other batting records. Gathered 714 home runs in addition to 15 in World Series." In fact, Ruth's entire plaque (including name and teams), uses fewer characters than Rickey Henderson's required just to list his teams.
Another thing about those plaques. They will hang in the Hall forever, allowing future generations to read and learn about a player. But that comes with some peril. For instance, what if the likeness isn't particularly favorable? Look at George Brett's. George is a handsome man, but his plaque makes him look like a complete goofball. And Robbie Alomar's new one might be even worse. It's as embarrassing as having someone engrave the photo from your driver's license or high school yearbook for posterity. ...
Only 1,472 Hot Feet Needed to Tie Blyleven's Career Record: Not sure if it was deliberate, but Justin Verlander honored Blyleven on induction day by carrying on one of the Hall of Famer's most famous routines by giving Tigers teammate Don Kelly a hot foot in the dugout. Check out this video to see the biggest flames in the Tigers dugout aside from when manager Jim Leyland lights his cigarettes.
Lies, Damn Lies and Statistics: Alomar is the first son of a major leaguer in the Hall of Fame. Ken Griffey Jr. may become the second, unless writers get off their sanctimonious horse and vote in Barry Bonds before him (don't count on it). ... The Mariners were .500, 2½ games out of first place and on a three-game winning streak July 5. They haven't won a game since, losing 17 in a row, four short of the American League record. ...
Rest in peace: More bad news for Seattle fans. Rick Kaminski, aka the Peanut Man, died Wednesday morning. Kaminski worked the Seattle stands for years, tossing peanut bags with uncanny accuracy. Even with the likes of Randy Johnson and Felix Hernandez on the mound for the Mariners, he was often the city's most entertaining pitcher. Rest in peace, Rick. We'll miss you.
CSI: BOX SCORE ANSWER
This was a difficult one. One clue is that I provided the entire starting lineups, which I rarely do. Why? Because the Pirates' starting lineup is crucial. If you read over the names, something may strike you. Rennie Stennett. Gene Clines. Roberto Clemente. Willie Stargell. Manny Sanguillen. Dave Cash. Al Oliver. Jackie Hernandez. Dock Ellis. Have you figured it out now? This was the first time a team fielded an "all-black" starting lineup. If you didn't figure it out, don't feel too bad. As Bruce Markusen quotes Oliver in this piece, "I didn't know until about the third or fourth inning. Dave Cash mentioned to me, he says, 'Hey, Scoop, we got all brothers out here.'" That game was played on Sept. 1, 1971, and the Pirates went on to win the World Series the following month.
Jim Caple is a senior writer for ESPN.com. You can follow him on Twitter at jimcaple.