Commentary
NFL quarterback carousel spins wildly
Originally Published:
July 28, 2011
By
DJ Gallo
| Page 2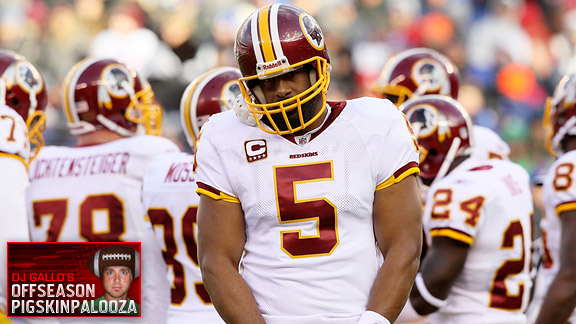 Getty Images
NFL football is back to normal. We know that not because the lockout is over, camps are open and free agency has begun, but because quarterbacks are dominating the news again.
Here's all the latest quarterback news to help you get caught up:
• Titans: Kerry Collins finally retired, so the Titans brought in Matt Hasselbeck. He's like a balder, slightly younger Collins. That's really the most accurate way to describe Hasselbeck. But I encourage the Titans' marketing people to try a different approach. "We've Got A Balder, Slightly Younger Kerry Collins Now!" might not drive many ticket sales.
• Vikings: From Brett Favre to Donovan McNabb. The Vikings remain very serious about never winning a Super Bowl. You can only admire their single-minded dedication.
• Steelers: Ben Roethlisberger got married Saturday. But his biggest wedding gift might not arrive until later this week, in the form of Plaxico Burress. Roethlisberger has a very good set of receivers in Mike Wallace, Hines Ward, Antonio Brown and Emmanuel Sanders, but none of them are (listed) taller than 6-foot. The 6-5 Burress would give Roethlisberger someone to throw the ball up to. And no one knows better than Burress that he is a big target who can be difficult to miss.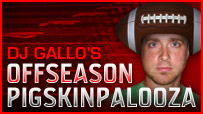 • Redskins: Presumed starter John Beck was turned away from the team facilities this week when a security guard didn't know who he was. Or at least the security guard claims he didn't know who Beck was. There's a decent chance the guy is simply a better talent evaluator than anyone in the Redskins' front office -- as most Americans are -- and took it upon himself to send Beck away.
• Eagles: Michael Vick continues to get endorsements -- I encourage him to just walk behind Tiger Woods and pick up the ones he loses -- and the Eagles are looking to move Kevin Kolb. Of course, there was also that Brett Favre-as-backup trolling story. But I refuse to talk about Favre. You know, other than mentioning his name in the Vikings write-up above. And twice here. And again now: Brett Favre. Brett Favre! Because those five mentions just added about 100,000 page views to this column. Thanks, Google!
• Ravens: After another ugly playoff exit led by Joe Flacco, the Ravens have now cut Todd Heap, Willis McGahee and Derrick Mason. Yikes. Here is Flacco watching game film of a Ravens offense without Heap, McGahee and Mason.
• Bills: Ryan Fitzpatrick is entrenched as Buffalo's starter, but the Bills have also brought in former Chiefs and Dolphins quarterback Tyler Thigpen, a solid backup with some upside. Thigpen should help Fitzpatrick become a better quarterback, too. Fitzpatrick went to Harvard and majored in economics, while Thigpen went to Coastal Carolina and majored in recreation and sports management. Spending every practice evading Thigpen's wedgie attempts should really improve Fitzpatrick's scrambling ability.
• Seahawks: Hasselbeck is gone, and his replacement in Seattle is Tarvaris Jackson. The Seahawks have also brought in one of Jackson's top Minnesota targets in Sidney Rice. Interesting moves. But if Seattle is going to bring in most of Minnesota's offense, but not Adrian Peterson, it's not really bringing in most of Minnesota's offense.

• Dolphins: Tim Tebow appears to be the man in Denver -- at least for the upcoming season -- and the Broncos are looking to deal Kyle Orton. Miami has been talked about as a destination for Orton, but "I'm taking my neck beard to South Beach" just doesn't sound very good. Heat and humidity are the bane of the neck-bearded.

• 49ers: San Francisco has agreed with Alex Smith on a one-year contract extension. The team also drafted Colin Kaepernick, but he's not expected to be ready to start in his first year. I'm just saying, 49ers, Jim Harbaugh looks like a young 47. Player-coaches have worked in other sports from time to time.

• Cardinals: Arizona really wants to acquire Kolb from the Eagles. Kolb is the kind of quarterback that comes along every few years in the NFL: the young, promising backup who has shown enough flashes during his brief time on the field that some GMs convince themselves that he could become a star if he was brought to their team and allowed to start. Some of these quarterbacks turn out to be Scott Mitchell; some turn out to be Matt Schaub or Matt Cassel. (Hmm ... note to GMs: Consider only acquiring backups named "Matt.")

In 19 career games, Kolb has a 73.2 passer rating, 11 touchdown passes and 14 interceptions. Not great numbers, but he truly does have potential. However, when you consider the track record and general luck of the Cardinals franchise, which do you think is more likely Kolb will become: A) Scott Mitchell; or B) Matt Schaub? Exactly. It was a trick question. The answer is: C) worse than Scott Mitchell.

• Texans: It was rumored that Matt Leinart would reunite with Pete Carroll in Seattle, but Leinart signed a two-year deal with the Texans to remain Schaub's backup. The Carroll-Leinart idea was terrible anyway. Look at their track record at USC. One year they didn't even win a single game. Why would they be any good together at the pro ranks?

• Panthers: With the new collective bargaining agreement lowering rookie salaries, it's expected that Cam Newton will sign quickly. The NCAA will really have to look in the mirror if Newton's NFL contract negotiations go quicker than his college football contract negotiations.

• Colts: Peyton Manning is not expected to be 100 percent for the start of camp due to his recovery from neck surgery. And the Colts should probably expect him to miss some additional time, as he no doubt now has neck brace and pain reliever endorsement deals, and he'll need to film commercials for them.

• Jaguars: The Jaguars have an interesting quarterback situation between David Garrard and Blaine Gabbert, but all those page views I picked up by mentioning "Brett Favre" in this column were now lost because I mentioned the Jaguars. Dammit.

• Bengals: The Bengals drafted Andy Dalton and appear ready to start him but have brought in Bruce Gradkowski as insurance. Meanwhile, Carson Palmer continues to say that he will retire if he is not traded. Since he's about to retire -- because, really, who would trade for him? -- I truly hope Palmer's next career does not require any negotiation. He'll quickly find out that, believe it or not, he was actually better at football.

• Bears: Jay Cutler broke off his engagement with Kristin Cavallari. Although if it was really broken, you'd think he'd be limping more. Whatever. I guess we just have to trust the doctors on this one.
DJ Gallo is the founder of SportsPickle.com. His first book, "The View from the Upper Deck," is available from only the finest bargain-book retailers. His next book project will be released soon. You can follow him on Twitter at @DJGalloESPN.