Commentary
Statue of the week: Boogity-boogity
Originally Published:
July 29, 2011
By
Kurt Snibbe
| Page 2
Page 2's Fictional Statue of the Week now turns to you, dear readers, to help us decide which sports newsmaker deserves to be immortalized. This week's suggested subject, the stirring invocation by pastor Joe Nelms, comes from user terpman19.
Check back on Monday in the Page 2 blog as we ask for suggestions for next Friday's statue.
Page 2's Fictional Sports Statues of the Week:
Week 1: Jim Tressel | Week 2: Charles Barkley (golf) | Week 3: Zach Randolph
Week 4: Kareem Abdul-Jabbar | Week 5: Chad Ochocinco | Week 6: Miami Heat
Week 7: Mavericks forward Brian Cardinal | Week 8: Canucks goalie Roberto Luongo
Week 9: New York Yankees | Week 10: Bye | Week 11: Deron Williams
Week 12: Legendary caddie Steve Williams | Week 13: The invocation of pastor Joe Nelms
Week 14: Randy Moss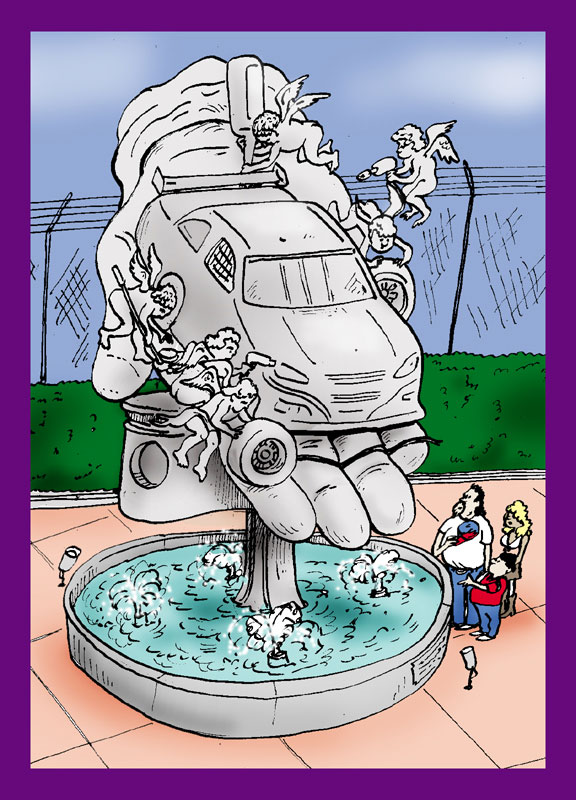 The stirring words of pastor Joe Nelms
Location: Nashville Superspeedway, Lebanon, Tenn.
Plaque Inscription: July 23, 2011
Heavenly father, we thank you tonight for all your blessings. You said in all things, give thanks. So we wanna thank you tonight for these mighty machines that you've brought before us.
Thank you for the Dodges and the Toyotas. Thank you for the Fords, and most of all, we thank you for Roush and Yates partnering to give us the power that we see before us tonight. Thank you for GM Performance technology and the RO7 engines. Thank you for Sunoco racing fuel and Goodyear racing tires that bring performance and power to the track.
Lord, I wanna thank you for my smokin' hot wife, tonight, Lisa, my two children, Eli and Emma, or as we like to call them, the Little Es. Lord, I pray you bless the drivers and use them tonight. May they put on a performance worthy of this great track. In Jesus' name, boogity-boogity-boogity.
Amen.