Commentary
NFL's most flamboyant figures, 50-41
Originally Published:
August 1, 2011
By
Patrick Dorsey
| Special to Page 2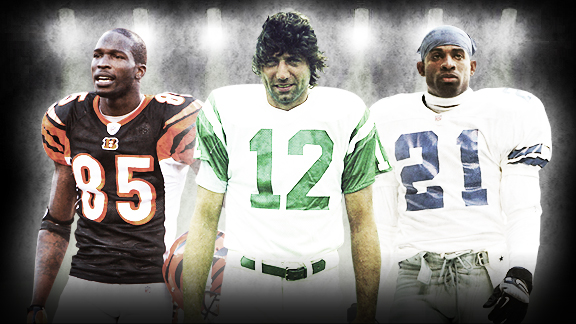 ESPN.com Illustration
Page 2's Top 50 flamboyant NFL figures:
flam•boy•ant, adj.
What the "F" in NFL stands for.
OK, so America's most popular league does like to stifle creativity sometimes. But in truth, the NFL has given us quite the share of wacky personalities. Just consider the Hall of Fame Class of 2011, set to be inducted this weekend. It includes:
Deion "Prime Time" Sanders
Shannon "Shapeshifter" Sharpe
No Fun League? Please. But in case you need further proof, this week Page 2 brings you the 50 most flamboyant personalities in NFL history. Nos. 50 through 41 come today. Nos. 40 through 31 drop tomorrow. And, as you surely know, so on.
Let's get to the list:
50. Shannon Sharpe
Brash, ripped and a heck of a dresser, the HOF-bound TV presence Sharpe mostly makes waves with his words. Like, say: "I've got a better chance of winning the Kentucky Derby on the back of a donkey than they have of winning the Super Bowl with Kyle Boller." Or: "President, call in the National Guard! Send as many men as you can spare! Because we are killing the Patriots! They need emergency help!" Wonder what he's going to say during his speech…
49. Jared Allen
He's a wild man from the wild, a guy whose country-boy pride brought us his unruly hair, numerous hunting exploits (elk -- with a spear! on TV!) and, of course, that lasso sack dance.
48. Dan Fouts
Before there was Plummer, before there was Reed, before even Brett Keisel or the one and only Brian Wilson (baseball, not Beach Boy), there was Fouts: the master of the beard, the guy who rocked the flamboyant facial hair, looked good doing it -- and played well, too.
47. Dhani Jones
He's flamboyant, but in a sophisticated way. Just check the bow tie (or the Cincinnati restaurant it inspired, the Bow Tie Cafe). And how about the Bengals linebacker's world-traveling ways, which landed him the Travel Channel show "Dhani Tackles the Globe" and a book deal ("The Sportsman: Unexpected Lessons from an Around-the-World Sports Odyssey")? Does this guy even need football anymore?
46. Chris Kluwe
Punters and kickers often bring the personality, but few go beyond "quirky." The Vikings' Kluwe is one of them. Long among the most vocal in the NFL's kicking class, the punter made headlines recently for NFL labor comments (plus a slightly inappropriate Twitter hashtag and a blog fight with former player Nate Jackson). He then proposed an outlandish trade offer involving Donovan McNabb and the No. 5 jersey (five news-conference mentions of his band, Tripping Icarus; yes, he's a rock bass player). He's also a gamer and proud of it, going by the nickname (and Twitter handle) "Chris Warcraft." Yeah, that's not doing much to quell the whole "kickers are nerdy" belief. Not that he seems to mind.
45. Bart Scott
On one hand, the Jets linebacker is a down-to-earth guy, a charitable husband and father with an influential family. On the other hand … boy can he talk. Sometimes he'll go off on clairvoyance, Yoda and Singapore bamboo punishment. Other times he'll shout about football, maybe call for more two-a-days in a world where less contact is considered better. But even without those quotes, he'd still make this list for one of the greatest on-field interviews ever.
44. John "Frenchy" Fuqua
Two words: Goldfish shoes. Need we say more about the 1970s Steeler?
43. Ed Hochuli
Timeout. A ref? Yes, this list will occasionally go beyond players, and there's one particular official who deserves a mention: the man they call "Guns." And there's a reason they call him that: Because when you purchase seats to one of his NFL games, you're also getting tickets to a gun show much better than Ron Burgundy's. But that's not all; short of Jack McCoy, Perry Mason and Matlock, not many lawyers (that's his day job) have gotten to flash their skills before millions of TV viewers. Or their guns. Did we mention those?
42. The Dancers (With the Stars)
Hines Ward. Emmitt Smith. Jerry Rice. Jason Taylor. None of these guys really evoke(d) "flamboyant" in their NFL careers -- not even "sexiest players" list mainstay Taylor, who's more stoic than outlandish. But when they got on the dance floor, all excelled. Taylor and Rice were runners-up. Ward and Smith won Mirror Ball Trophies. Even Len Goodman gives their inclusion on this list a 9. Bruno and Carrie Ann? Ten each. (And yes, we know we're leaving off another former DWTS finalist … but he'll be on here later.)
41. Barry Sanders
Wait, what? The most boring touchdown celebrator of all time? The enigmatic running back who just up and quit one day, then all but disappeared? Yes, he's on this list, and for one reason: Rappin' bout abstinence. You're welcome.
Check back tomorrow for Nos. 40-31.
Patrick Dorsey is a writer based in South Florida and a regular contributor to Page 2. He can be reached at bypatrickdorsey@gmail.com.