Commentary
Skateboarding meets marathoning in NY
Originally Published:
August 1, 2011
By
Ken Derry
| Special to Page 2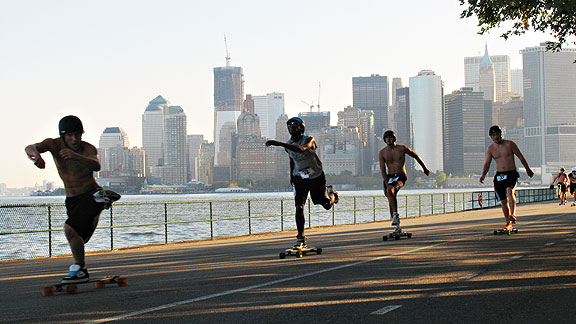 Ken Derry for ESPN.com Adrenalina Skateboard Marathon competitors ride their longboards in front of the Manhattan skyline.
NEW YORK -- A man known as "The Wiggler" stepped on his skateboard in pursuit of a world record and a $15,000 payday on Saturday. All that stood between him and glory were 26.2 miles and approximately 150 competitors.
Such were the stakes on Governors Island, site of the first leg of the four-city Adrenalina Skateboard Marathon longboard tour, which also includes stops in San Juan, Puerto Rico; Plano, Texas; and Hallandale Beach, Fla. The Governors Island course featured a 12-lap circuit around the waterfront promenade.
The green flag dropped shortly after 7 a.m., but the unofficial start might have come 20 minutes earlier when Solomon Lang, making his way to the island on the ferry with other sleepy skateboarders, broke the serenity of the cruise by unleashing a primal howl, a metaphorical foghorn of zest and vigor.
"It was a surreal moment," said Lang, a Brooklyn resident who finished in 10th place. "If I see a person on a longboard, we're automatically brothers. These are the people we chill with, play with, party with. It was a beautiful moment."
Indeed, it was a beautiful morning. Temperatures in New York City would reach the mid-90s later in the day, but it was breezy and 74 degrees at the start of the race on Governors Island.
After the first lap, it was Paul Kent, 29, from Alberta, Canada, in the lead. Hot on his tail was Jeff Vyain, the 27-year-old long-haired hot shot from Indianapolis, who now lives in Brooklyn. The two set an unforgiving pace that none could match, and in the end, it was Vyain, the one they call "The Wiggler," who finished first in 1:31:40. Kent followed 29 seconds later, winning $5,000.
"There's a feeling on the board, it's such an intimate experience with the surface I'm riding on," Kent said.
Five years ago, Kent couldn't afford a bus ticket from Calgary to Vancouver to attend a race. He said he skated the 600-plus miles, arriving the day before the race and finishing third.
"I do this because it challenges me," Kent said. "I like to make myself suffer and sort of relish in it."
[+] Enlarge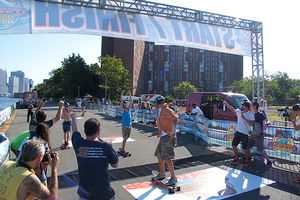 Ken Derry for ESPN.comJeff Vyain crosses the finish line with a world record.
Vyain, who ran cross country at Belmont University in Nashville, Tenn., shattered the previous marathon world record of 1:40:58 that he set at the inaugural Adrenalina Skateboard Marathon in Hallandale Beach last November. In fact, eight of the first 10 finishers on Saturday broke that mark.
"I got two and a half hours of sleep last night," Vyain said. "I was fired up, yeah, but my roommate was moving out. It was horrible."
With his prize money, Vyain said he intends to shop around for sensory deprivation chambers.
"I know it sounds kind of wacky," he said. "But it's really good for healing and meditation."
Camille "The Beast" Best, 22, from Brooklyn, took home $3,000 for being the first woman to finish. She set the women's world record at 1:59:15. The previous mark was 2:12:24, and the first five women to finish on Saturday beat it.
"I'm going to try to beat that record in Puerto Rico," Best said of her next race in the Adrenalina series.
Perhaps no one was more aware of the stakes than Jason Yerke, 29, of Lansing, Mich. He was in third place after the third lap, but heading into the first turn of lap four, he lost his balance and crashed.
A chain-link fence abuts the road next to the water in that spot, but it hangs like a skirt about eight inches from the ground. So when Yerke fell, his board -- along with his hopes of finishing in the money -- jettisoned from under him, and slid under the fence and into New York Harbor.
Yerke stood, took a deep breath, unclipped the chin strap of his helmet and flung it to the curb next to his family and friends, who had the misfortune of witnessing the crash from only a few feet away.
Yerke sat on the curb with them and was greeted by spectator Shawn Burns, 31, of Barnegat, N.J.
"Here, use mine," Burns said, offering his longboard.
Yerke politely declined, and the two shook hands.
"I wanted to compete against the best in the world," Yerke said. "I'm really bummed out. We were here to win, to make a name for ourselves. But stuff happens."
Ken Derry is a New York-based writer.