Commentary
NFL's most flamboyant figures, 40-31
Originally Published:
August 2, 2011
By
Patrick Dorsey
| Special to Page 2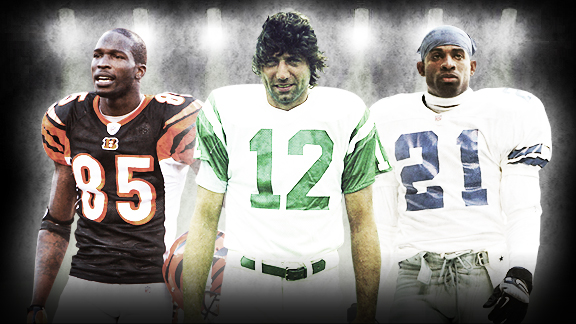 ESPN.com Illustration
Page 2's Top 50 flamboyant NFL figures:
flam•boy•ant, adj.
What Page 2 is talking about this week, at least in NFL terms.
On Monday, we brought you Nos. 50 through 41, including a beard baron, a guy with goldfish shoes and football's unlikeliest rapper ever.
Now come the next 10, who further flash the many faces of flamboyance:
40. Tony Romo
Who knew a kid raised in small-town Wisconsin and groomed at Eastern Illinois could crack football's celebrity A-list within a few years? Oh, but it happened, thanks to the power of the Dallas Cowboys, the QB position and a hot, blond pop star … what was her name, again? Ah well. Romo is married to a former Miss Missouri now, and he still rubs shoulders with some of the red carpet elite -- even on the golf course, where he's an absolute ace.
39. Ted "Mad Stork" Hendricks
There have been plenty of unusual Raiders, but only one "Mad Stork," aka "Kick 'em in the head Ted," aka one of the most outwardly strange guys in NFL history, a seriously smart guy with a bizarre streak few could match. Among his antics: wearing a pumpkin to practice in lieu of a helmet (part of an extensive collection of weird head wear); fashioning a bench out of barbed wire; and, perhaps his best, building a barbell with two empty drums at the end so he could look like a champion weightlifter while hoisting only a few pounds.
38. DeSean Jackson
Celebrating touchdowns? Possibly flamboyant. Celebrating touchdowns before they even happen … more than once? Definitely flamboyant.
37. Joe Horn
Did someone say celebration? Because "Hollywood" Horn -- a stylish guy who once pointed to a "Support Our Troops" banner after a score -- forever will be known for one big thing: the cellphone.
36. Channing Crowder
The just-waived ex-Dolphin lands here just for the flamboyant flaunting of his unpredictable (and sometimes intentionally funny) thoughts. Such as …
A. After joking he didn't know Londoners spoke English: "I couldn't find London on a map if they didn't have the names of the countries. … I know [Washington Redskins linebacker] London Fletcher. We did a football camp together. So I know him. That's the closest thing I know to London. He's black, so I'm sure he's not from London. I'm sure that's a coincidental name."
B. During a postgame rant, after invoking the name "Anne Frank" to insinuate the refs had eyesight problems: "Who was that? Is that the blind girl? Helen Keller … I don't know who the [expletive] Anne Frank is. I'm mad right now. [Expletive] it. I'm not as swift as I usually am."
C. This summer, in light of all the college football scandals: "I'll say hypothetically I don't have any more of my Florida jerseys. … There were some Jacksonville businessmen that really hypothetically liked my play."
35. Michael Strahan
Never mind the boyish look. This guy means flam-business. (OK, that was bad.). First, the gap alone is noteworthy, but the NFL's single-season record holder for sacks doesn't stop there. He's done commercials (watch out for that obnoxious B.O.); starred in the sitcom "Brothers"; and tackled finances with one of the most outspoken TV hosts. Now he supposedly wants to be the next Regis Philbin. But other than that, bo-ring.
34. Fred Williamson
With apologies to fellow footballers-turned-thespians such as Merlin Olsen (the Big Lineman on the Prairie), Bubba Smith (Moses Hightower of "Police Academy" fame), Fred Dryer (aka "Hunter"), Ed Marinaro (who's got a fake coaching career going on), and Alex Karras (the most famous horse puncher of all time), the first -- but not last -- actor slot on this marquee goes to The Hammer, who spent just one year in the NFL (his AFL career went on much longer) before turning into a swaggering Blaxploitation star (including a film itself called "Hammer"). Years later, Williamson used that intensity for a spot-on spoof in the Ben Stiller-Owen Wilson version of "Starsky & Hutch."
33. Warren Sapp
Part 1 of our list included a series of successful dancers, but this guy did more than just shine (as a surprising runner-up, considering his girth) on "Dancing with the Stars." The massive defensive lineman was always outspoken, and he proved flamboyantly light on his feet off the dance floor, sometimes skipping through the opponent's half of the field during pregame warm-ups. Yes, skipping. You going to tell him that's not manly?
32. Freddie Mitchell
During a brief career with the Eagles, the wide receiver made one big catch … but didn't do much else on the field. "FredEx" certainly sought (and got) attention throughout his football days, be it with his dress, his hair or, most notably, his mouth: on radio and TV, including "Leno," plus in news conferences, with lines such as, "I'd like to thank my hands for being so great." Mitchell also has appeared in multiple dating shows, including TLC's "A Dating Story" (in 2003) and "Millionaire Matchmaker" (this year).
31. Butch and Sundance
Or, as they were known on the field, Jim Kiick and Larry Csonka: a pair of unusual Dolphins running backs whose exploits (like working with teammate Manny Fernandez to put a live alligator in coach Don Shula's shower) weren't limited to the locker room. Celebrities in South Florida during the height of Miami's football run, Butch and Sundance once lived up to those nicknames by being filmed riding along the beach on horseback. And let's not forget their infamous 1972 Sports Illustrated cover, which features Csonka sneakily making a certain hand gesture.
Check back Wednesday for Nos. 30-21.
Patrick Dorsey is a writer based in South Florida and a regular contributor to Page 2. He can be reached at bypatrickdorsey@gmail.com.