Commentary
A-Rod has me thinking of poker movies
Updated:
August 7, 2011, 10:06 AM ET
By
Jerry Greene
| Special to Page 2
All-in, A-Rod.
Despite the return of professional football (no, not you, CFL), the week's headlines were stolen by the report that baseball player Alex Rodriguez may have played in a Hollywood poker game in which a fight could have broken out and someone might have used some white substance to clear his nose.
Oh, the infamy!
Not likely Mr. Rodriguez suffers more than a tweet from the commissioner's office advising him to hire another dozen publicists to whitewash his off-the-field activities. But it got us thinking about poker. Here are my three favorite short-short poker jokes: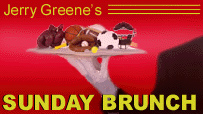 • "I was playing poker with Tarot cards and got a full house. Four other players died."
• "I have two rules for winning poker. One, never reveal everything you know. Two, …" (Come on, think about it.)
• "I was losing at casino poker and decided to try the crap tables. They threw me out for being too literal."
Also, A-Rod's alleged activities got me thinking about the greatest poker movies. Here's my mini-list:
• 3. "Maverick" (1994) -- Remember when we loved Mel Gibson? And James Garner isn't Maverick in this movie but still steals the flick. Great poker con on a river boat at the end.
• 2. "Rounders" (1998) -- You're probably screaming that this must be No. 1. Tough. Matt Damon is solid, John Malkovich is funny and Edward Norton will always be Worm. And yes, it really played a role in the outbreak of Texas hold 'em. Young players love the message of following your calling and going all-in on life instead of protecting your chips. But that's young players.
• 1. "A Big Hand for the Little Lady" (1966) -- You've probably never heard of this because I'm older than dirt, but it's a great flick starring Henry Fonda and Joanne Woodward. It's worth checking out, especially for one of the film's great twists at the end.
A few tidbits while our literary chefs are putting the final touches on the Brunch's main dishes.
• Should the NFL give the Lombardi Trophy to the Eagles now or should we go ahead and play it out just for kicks?
• The FC Barcelona-Chivas de Guadalajara soccer match was seen by 70,080 at Sun Life Stadium in South Florida. Dolphins ownership is officially on "suicide watch."
• The postseason game at Boise State's Bronco Stadium is now the Famous Idaho Potato Bowl. Question: What's the trophy going to look like?
• Tweet of the Week: "David Stern sees doomsday. Billy Hunter says tonight he sees no [2011-12] season. Gentlemen, these are your leaders?" -- South Florida Sun-Sentinel's Ira Winderman.
• And our tidbit closer from Jay Leno: "The stock market is so bad, today Tobey Maguire and A-Rod switched from poker to 'Go Fish.'"
Time for the main courses in the first Brunch of August. Warning: Some of our literary stars seem to be in a bad mood:
• Something is seriously wrong with the Miami Dolphins. Dan Le Batard tells the Miami Herald what he thinks has gone bad and who caused it. Does the name "Bill Parcells" ring a bell? Read it here.
• Speaking of NFL leadership, Sam Farmer of the Los Angeles Times tells us that the 32 teams have 19 new coordinators going into this rushed season. Perhaps none of them faces a bigger challenge than Jay Gruden as new offensive leader of the Cincinnati Bengals. However, maybe none is better equipped for finding success. Read it here.
• Most of us have been giddy about the return of the NFL. But not all. Andrea Peyser of the New York Post sees the league as a home for thugs and wonders why we are so eager to give them a free pass. Read it here.
• Switching to the college game, Shannon J. Owens of the Orlando Sentinel listens to the "new" Florida Gators describe themselves as "blue collar" and calls them out. She suggests Florida's former glory was built on superstar talent and not "blue collar" players. Read it here.
• In case you've forgotten, the NBA still has a lockout going on. Dave D'Alessandro of the Newark Star-Ledger criticizes the ownership's tactics but his real ire is aimed at the union for taking it without fighting back. Read it here.
Well, some disgruntlement in this Brunch, but that shouldn't ruin your day. And in case you didn't notice, this was a Brett-Farve-Free Brunch, so you've got that going for you.