Commentary
Alex Rodriguez stars in 'Rounders 2'
Originally Published:
August 10, 2011
By
Jim Caple
| Page 2
NEWS ITEM: Alex Rodriguez is expected to meet soon with league officials about his poker playing. His publicist says a report that A-Rod played in a high-stakes underground poker ring that included Matt Damon, Ben Affleck, Leonardo DiCaprio and Tobey Maguire, with possible drug use and violence, had "numerous factual inaccuracies."
ROUNDERS 2:
SCENE 1: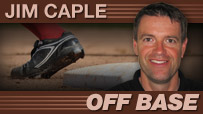 [EXT. Times Square. MATT DAMON and BEN AFFLECK cross 42nd street, deep in a philosophical debate.]
AFFLECK: Look, I'm not saying that I could have played in the majors. I'm just saying I could be a convincing ballplayer if we ever make that movie about the Fritz Peterson-Mike Kekich wife-swapping thing with the Yankees.
DAMON: I don't know. You'll definitely have to work more quickly than Josh Beckett. If we have to wait 45 seconds between every pitch, the production costs will be higher than "Avatar."
AFFLECK: Whatever. I'm just saying I'll be a more convincing major leaguer than Lou Merloni.
[An anxious New York Mets owner FRED WILPON rushes up to the two, interrupting their conversation.]
WILPON: Matt Damon! I've been looking all over town for you. You have to help me. I need to come up with $200 million or I'll lose my controlling stake in the Mets. The banks won't loan me the money so I was hoping you could get me into a poker game with that Russian mafia guy Teddy KGB you beat in hold 'em to get your bankroll back in "Rounders."
DAMON: You do realize that "Rounders" was just a movie, don't you? It was fiction. Ben and I are actors. We play characters in scripts.
AFFLECK: Yeah, it's not like I was really Daredevil, a blind superhero who uses his radar sense and hypersensitive hearing to fight crime.
WILPON: Of course not. I didn't believe you as Daredevil for a second. Or, for that matter, as a fighter pilot in "Pearl Harbor." Or as a roughneck who goes to space in "Armageddon." Or as Jack Ryan in "The Sum of All Fears." Or as an Elizabethan actor in "Shakespeare in Love." Or as...
AFFLECK: All right, all right. We get the point.
WILPON:Well, like I was saying, I was hoping Matt could hook me up with this Teddy KGB character. I mean, even if I can't beat him at poker, maybe we can just steal his money by having you kick his ass with those Jason Bourne moves. Man, how do you do all that stuff?
[DAMON and AFFLECK shake their heads.]
AFFLECK: I guess this kind of explains the contract he gave Bobby Bonilla.
DAMON: Look, Mr. Wilpon -- like I said, "Rounders" was just a movie and there is no Teddy KGB. He was just a character played by John Malkovich. But I do play poker around town and there is a guy like Teddy KGB who plays for pretty big stakes. I could set you up with him.
WILPON: That would be great. What's his name?
DAMON: They call him Alex AROD. And he's got a game going right now.
[The three hail a cab and head off for the game. WILPON turns to AFFLECK.]
WILPON: But my grandkids absolutely love you in "Surviving Christmas" during the holidays.
SCENE 2:
[DAMON, AFFLECK and WILPON walk down the stairs to the basement level of a seedy, poorly lit building on the Lower East Side where several no-limit hold 'em games are being played. WILPON smiles and pats his bankroll.]
WILPON: I feel like Mookie walking back into Shea.
AFFLECK: Yeah, except you tore Shea down and replaced it with an $800 million stadium where you draw fewer fans and have a worse team. Nice job.
[+] Enlarge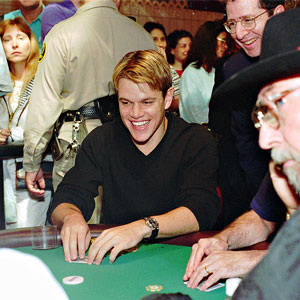 AP Photo/Lennox McLendonThere's no one better at pretend poker than Matt Damon.
DAMON: And what's the deal with all the Brooklyn Dodgers crap?
[The three walk past one card table where a bulldog, a Great Dane, a pink poodle, a golden retriever, a collie and, oddly, Darryl Strawberry, are playing poker.]
GOLDEN RETRIEVER: And so I replied, "Because I can!"
[The dogs howl with laughter. The golden retriever leans over and sniffs the poodle's rear end.]
GOLDEN RETRIEVER: Mmmm, what is that perfume you're wearing? I get wonderful wisps of orchids, roses, vanilla and manure.
[DAMON, AFFLECK and WILPON move on. They reach the back room, where ALEX AROD sits below a giant painting of himself dramatically posed as a poker-playing Centaur. He is being hand-fed popcorn by CAMERON DIAZ. Playing against him are LEONARDO DICAPRIO, TOBEY MAGUIRE and Dodgers owner FRANK McCOURT.]
[McCOURT goes all-in. ALEX considers his hand and pushes his chips to the center of the table, as well.]
ALEX: All right, let's see what you've got.
[ALEX turns over his cards and shows he has a pair of jacks. McCOURT turns over his cards and shows he has missed an inside straight. He has nothing.]
ALEX: Looks like you owe me $20 million.
McCOURT: I don't have it. But I can get it to you just as soon as I sign a TV deal and trade Kershaw, Kemp and Ethier for cash and low-level prospects.
ALEX: Sorry, McCourt. I'm not as understanding as the commissioner. If you don't have the money, then you are mine.
[ALEX snaps his fingers and two very muscular and brutish thugs step to the table.]
McCOURT: Wait, wait! I'll sell our houses in Vail, Cabo, Malibu and Cape Cod! And the one in the Hollywood Hills! I'll sell our Gulfstreams! I'll even get Jamie to slash her monthly personal care expenses from $12,000 to $8,000! Just don't hurt me!
[ALEX is not persuaded. He merely nods toward the thugs. They lift McCOURT from his chair and take him into a back room. We hear punches, furniture breaking, McCOURT screaming in pain and the following brief conversation.]
VOICE OF THUG NO. 1: That's for not being able to cover your bets with Alex AROD.
VOICE OF THUG NO. 2: And that's for signing Juan Pierre to that ridiculous contract! What were you thinking giving $44 million to a guy with a .710 career OPS?
VOICE OF McCOURT: The team astrologer sensed he would hit 20 home runs at Dodger Stadium...
[McCOURT'S voice weakens to a low, painful moan. ALEX shrugs and DIAZ feeds him more popcorn. He turns to DAMON and AFFLECK.]
ALEX: You two should be soooo glad baseball didn't let him buy the Red Sox. Now, what can I do for you?
DAMON: Just looking for a game, Alex.
[ALEX gestures to the three to sit down. As they do, MAGUIRE gives AFFLECK the stink-eye.]
MAGUIRE: "Daredevil" nearly sank the whole Marvel movie franchise. I so kicked Daredevil's ass as Spider-Man.
SCENE 3:
[Same dingy basement, many hours later. The poker players are exhausted -- as are their bankrolls. ALEX has won almost everyone's money. Wait, drop the "almost." After the flop on the final hand, he has taken everyone's bankroll.]
ALEX: Well, everyone, it has indeed been a pleasure. Thank you all for playing. And now, if you'll excuse me, I need to go to my rehab session.
[ALEX eats another handful of popcorn from CAMERON DIAZ and begins to leave. Suddenly, however, DICAPRIO rises from his chair and pulls a gun and a badge.]
[+] Enlarge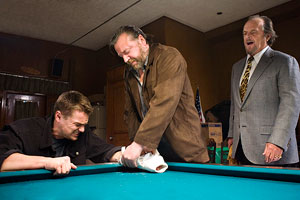 AP Photo/Andrew CooperImmediately learning his hand was broken Fred Wilpon attempted to sign DiCaprio's character to a four-year deal.
DICAPRIO: Stay right where you are, Alex. You're under arrest for running an illegal gambling ring.
ALEX: What are you talking about? You can't arrest me, you're an actor.
DICAPRIO: I was an actor. But while working on Scorsese's mob picture, "The Departed," I went over the edge with my method acting. And now I am no longer Leo DiCaprio the actor. I am his character, Billy Costigan the undercover agent.
ALEX: So you're nothing but a lousy cop?
DICAPRIO: Technically, no. I work for MLB security, with the direct written consent of the commissioner to arrest any player breaking baseball's rules on gambling -- as well as for the rebroadcast, reproduction or reuse of a game. I've been tracking you for months, just waiting for a chance to bust you.
ALEX: But I don't get it. I'm not betting on baseball. I'm just playing cards. What's so bad about playing poker with my friends? Playing poker with friends on the weekend is practically a national pastime -- and on a relative basis, most people wager a greater percentage of their income than I ever do. Heck, if I did this in Vegas with complete strangers, they would show it on TV to boost their ratings and sell advertising! In fact, that's what baseball should do to boost ratings for the All-Star Game -- have a celebrity poker game instead of softball. Think of the ratings for that!
Why does everyone make such a big deal out of everything I do just because I'm rich and handsome? I mean, people are still making stupid jokes about my girlfriend putting popcorn in my mouth at the Super Bowl just because the cameras happened to catch that couple of seconds of the game on TV. It's not fair!
DICAPRIO: Save it for the judge, pal.
[DICAPRIO scoops up the money and slaps handcuffs on ALEX. As they begin to leave, WILPON tugs on DICAPRIO's sleeve.]
WILPON: Ummm, you won't tell Bud Selig about me being here, will you?
[DICAPRIO pushes ALEX ahead and whispers to the three.]
DICAPRIO: Don't worry. It's all an act. I'm just pretending I'm with MLB security so that we can get our bankrolls back. [He winks.] Besides, you know owners always get a free pass.
[DICAPRIO hands the three their share of the money, then frog-marches ALEX to a waiting car. DAMON, AFFLECK and WILPON watch with admiration.]
DAMON: Man, that was an impressive performance.
AFFLECK: Absolutely. Leo had me completely convinced he was an undercover agent.
WILPON: Not me. How could he be an undercover agent? He's just a tramp from Chippewa Falls, Wisconsin. But what I can't figure out is how he survived that Titanic sinking. And he looks so young, too. I guess the cold water was a preservative or something, like with Captain America.
DAMON: I think that explains the Oliver Perez contract.
CSI: BOX SCORE
You know the rules. You get a fragment from an old box score and the challenge of determining what game it is from and why it is significant. I give this one a difficulty rating of 5.

Kurt Snibbie/ESPN.com
BASEBALL CARD OF THE WEEK
What is Lee Elia looking at so suspiciously and what is he thinking in this card (1967 Topps, No. 406), which clearly has a spring training backdrop? My guess: "Who are all these [expletive] guys hanging out and watching us in the middle of the day when they should be working? They ought to get a [expletive] job and earn a [expletive] living! One of these days I'm going to say what I really think about them."
[+] Enlarge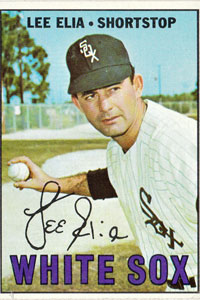 Topps Long story short -- don't mess with Lee Elia on Picture Day.
(BTW: Elia has calmed down enough from his famous 1983 Cubs fans rant that for the 25-year anniversary, he laughed about it and took part in a charity event for cancer.)
BOX SCORE LINE OF THE WEEK
Derek Jeter had his second five-hit game of the season (6 AB, 4 R, 5 H, 2 RBI) Wednesday; he is the only player to have two five-hit games this year. Then there was Anaheim's Jered Weaver, who pitched his second nine-inning, scoreless no-decision Friday (9 IP, 7 H, 0 R, 0 ER, 1 BB, 8 K). Weaver is the first pitcher to have two such games in a season since Tom Browning in 1990.
Chicago's Gavin Floyd and the Cardinals' Edwin Jackson, meanwhile, had lesser outings Wednesday when each allowed 10 runs. Floyd gave up 10 runs on nine hits (2 2/3 IP, 9 H, 10 R, 10 ER, 1 BB, 2 K) but his old teammate had an even worse time in this award-winning line:
7 IP, 14 H, 10 R, 8 ER, 1 BB, 6 K
BALLPARK RANKINGS
Minute Maid Park, Houston: There are worse names for a stadium than one advertising a variety of citrus drinks. For instance, Enron quickly springs to mind. And name aside, I like this stadium because it feels like an athletic park, not a shopping mall or the sort of upscale resort where you would expect to find the Kardashians. It also provides a nod to the old Union Station with the train that runs on the short track above left field. And like in Seattle, the retractable roof design makes everything feel very open. Now if only the Astros could put an equally quality team on the field.
Score: 80. Current rankings:
[+] Enlarge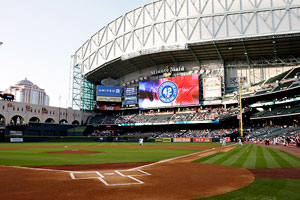 Bob Levey/Getty ImagesMinute Maid Park could be a lot worse. It could still be Enron Field.
1. PNC Park, Pittsburgh: 98
2. AT&T Park, San Francisco: 94
3. Camden Yards, Baltimore: 92
4. Target Field, Minneapolis: 91
5. Wrigley Field, Chicago: 90
6. Dodger Stadium, Los Angeles: 88
7. Safeco Field, Seattle: 87
7. Comerica Park, Detroit: 87
7. Coors Field, Denver: 87
10. Kauffman Stadium, Kansas City, Mo.: 86
11. Progressive Field, Cleveland: 82
12, Minute Maid Park, Houston: 80
13. Yankee Stadium, New York: 79
14. Busch Stadium, St. Louis: 78
15. The Ballpark in Arlington, Texas: 77
16. Chase Field, Phoenix: 76.5
17. Nationals Park, Washington: 76
18. Rogers Centre, Toronto: 75
19. Oakland-Alameda County Coliseum: 74
20. Tropicana Field, Tampa Bay: 68
YEAH, WELL, THAT'S JUST LIKE YOUR OPINION, MAN
Actually, We Do Care If We Ever Get Home: Sunday's Red Sox-Yankees game was just 2-2 after nine innings, but of course it still took nearly four hours to play those nine innings. Naturally, there are many complaints about the length of these games and they are all justified. Josh Beckett was taking up to 45 seconds between pitches. As analyst Bobby Valentine said during the ESPN broadcast, the rules say a pitcher has 12 seconds to pitch once the batter is ready. I can see cutting a little slack, but 30 seconds? Forty-five seconds? C'mon, enforce the rules. I'm sorry, but if a pitcher can't sneak a fastball by a batter unless he dozes off first, he shouldn't be pitching.
Off-Base -- Just A Pulitzer Prize Shy Of A Major Award For Outstanding Journalism: The brief wire report on Saturday's Brewers game noted that Prince Fielder finished just a triple shy of hitting for the cycle. As my friend Sarge suggests, they should ban the phrase "a triple shy of the cycle." Because the triple is usually what keeps a player from hitting for a cycle. Especially with Prince Fielder. Saying Prince was a triple shy of the cycle is like saying he's also just a 100-pound crash diet shy of a 31-inch waist...
Lies, Damn Lies and Statistics: After 100 games, the Pirates were 53-47 and tied for first place, the latest they have held a share of first place since 1992. They lost 12 of their next 13, including that painful 19-inning disaster in Atlanta as well as a 10-game losing streak, to fall five games under. 500 and 10 games out of first. Sigh. At least it was fun while it lasted.
CSI: BOX SCORE ANSWER
All the clues were there for you to figure out this extraordinary game, played June 2, 1963. The linescore shows that the game lasted 16 innings and the lineup, you can see, indicates only one pitcher on each team. How is that possible? Because both Juan Marichal and Warren Spahn pitched complete games, throwing more than 200 pitches apiece! And Spahn was 42 years old! No pitcher has thrown more innings in a game since then (and Gaylord Perry is the only other one to throw 16, also with San Francisco -- the Giants were a little more lax with their pitch counts in the 1960s). The Giants finally won it when Willie Mays hit Spahn's 201st pitch of the night for a home run.
How much has the game changed since then? No pitcher has thrown more than nine innings in the past four years and no one has thrown more than 10 in the past 20 years. Also, this 16-inning game was shorter (4:10) than Sunday's Yankees-Red Sox game.
BTW: As amazing as the Marichal-Spahn marathon was, the Mays home run provides an even more incredible bit of trivia. Thanks to that home run, Mays homered in every inning from 1-16 during his career. He's the only player who can say that.
Jim Caple is a senior writer for ESPN.com. You can follow him on Twitter at jimcaple.