Commentary
The real superheroes of Washington
Originally Published:
August 11, 2011
By
DJ Gallo
| Page 2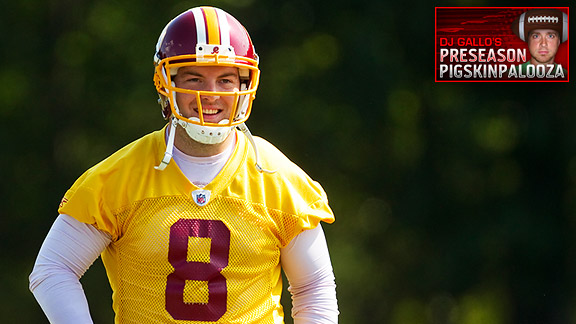 AP ImagesIt's a fumble! It's a pick-six! Look! It's Gross-man!
Redskins quarterback Rex Grossman created a stir this week when he said Washington will win the NFC East.
"We're fine being the sleepers right now," Grossman told Comcast SportsNet. "You know, we're just waiting in the wings, ready to take over the NFC East."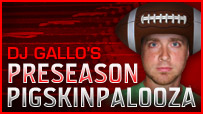 That may sound insane to you. But is it really? Imagine if Michael Vick gets injured and the Eagles are forced to play with Vince Young at quarterback. Eli Manning and the Giants closed last season 4-4 and likely will be mediocre again. And the Cowboys are always a sure bet to miss expectations. So if all of that happens, couldn't the Redskins steal the division?
No. Of course not. It's still an insane idea. Even in a division with the Young-led Eagles, Eli Manning and Tony Romo's band of merry underachievers, the Redskins are still the worst team.
For Washington to win the NFC East, there would almost have to be a miracle. The Redskins and Grossman would have to be revealed as superheroes. Wait. Are they superheroes? Superman ... Spider-man ... Grossman? Whoa. That's it, isn't it? The Washington Redskins are a team of football superheroes.
Rex Grossman -- aka Gross-man: Gross-man's power is the power of surprise. He can take an offensive possession and instantly give the ball to the opponent via an interception or fumble. You don't know when or where it will happen, only that it will almost definitely happen. Like other superheroes, Gross-man has also been known to wear a skintight suit. But his is worn so you avert your eyes and don't see him, almost like a chubby camouflage.
CRAZY BUT CORRECT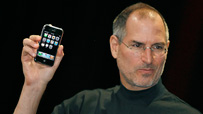 Yes, Rex Grossman saying he believes the Redskins can win the NFC East sounded a little crazy. But what if he's right? There have been other people who were derided, but right. Maybe you've heard of a little thing called the iPhone? Patrick Dorsey
John Beck -- aka Mr. ???: He possesses the powers of disguise and shape-shifting. So great are these powers that absolutely no one knows what he actually looks like or who he even is, as evidenced by him getting turned away from the team facility by Redskins security when the lockout ended. So far in his career he has taken on the form of Heath Shuler, but the Redskins believe he can turn into ... uh ... Mark Rypien? Gus Frerotte? No one can know. It's all a depressing MYSTERY!
Mike Shanahan -- aka The Orange Lantern: Peter Parker obtained his Spider-man superpowers when he was bitten by a radioactive spider. Shanahan got his superpowers when he fell asleep in a tanning bed.
Like many superheroes, The Orange Lantern has a cover in everyday life. By day he serves as America's Speaker of the House, but on Sundays The Orange Lantern transforms into Mike Shanahan, travels across town and tries to bring victories to Washington, D.C. His kryptonite is football teams not quarterbacked by John Elway. Which is too bad because John Elway is 51 years old and has been retired since 1998.
Chris Cooley -- aka The Joker: Cooley tries to bring the laughs via blog posts and Internet videos. His superhero costume is similar to Gross-man's in that it is difficult to look at. Other than keeping his teammates loose during long losing streaks, The Joker's greatest power is being a red zone decoy, reeling in only six touchdowns on 189 receptions the last three seasons. One can only marvel at how he might be ignored if Mr. ??? starts at quarterback.
Dan Snyder -- aka Badman: Snyder possesses the power of incompetence. Every decision he makes is the wrong one. Everyone he pays is overpaid. Everything he touches turns to failure. But with great failure comes great responsibility. (I don't really know what that means. But I feel like it's something you might say to Dan Snyder if you were trying to compliment him.)
Unfortunately for Redskins fans, this Badman is like the Val Kilmer/George Clooney-era Batman. At least Snyder doesn't wear nipple-revealing suit coats. It's his one positive.
Albert Haynesworth -- aka Robbin': Robin is Batman's sidekick and Robbin' is Badman's sidekick. Sidekicks don't get a starring role, but they provide much-needed assistance. And there's no bigger assistance that Haynesworth could provide than not playing for the Redskins anymore.
DeAngelo Hall -- aka Superman: Hall is the greatest superhero of them all: Superman. But only if he is playing against Jay Cutler. If not, he becomes Not-Super-But-Better-Than-Average Man, which is really not a very good name for a superhero.
Sav Rocca -- aka Captain Australia: He's not your regular superhero football player. He comes from a faraway land (Australia) and has a mysterious background (Australian rules football). Captain Australia is also the most important superhero on the Redskins, as he is their punter.
Gross-man. Mr. ???. The Orange Lantern. The Joker. Badman. Robbin'. Superman. And Captain Australia. Together they form the Washington Redskins and working as one they can potentially go 7-9 and win the NFC West!
Unfortunately, the Redskins play in the NFC East. Sorry, Gross-man. Not every superhero story has a happy ending.
DJ Gallo is the founder of SportsPickle.com. His first book, "The View from the Upper Deck," is available from only the finest bargain-book retailers. His next book project will be released soon. You can follow him on Twitter at @DJGalloESPN.