Commentary
Do we live in alternate sports universe?
Updated:
August 14, 2011, 10:44 AM ET
By
Jerry Greene
| Special to Page 2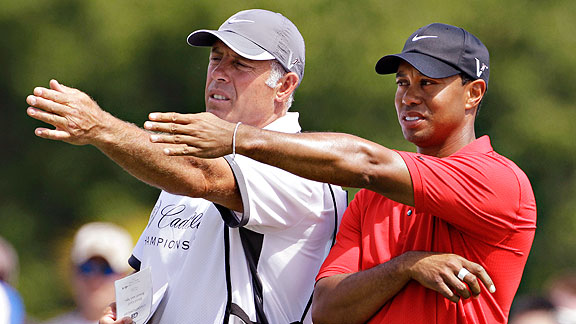 AP Photo/Lynne SladkyWhat if things were reversed and Tiger Woods was caddying for Steve Williams?
Somewhere there is an alternate universe in which the NFL is a four-team league in which quarterback JaMarcus Russell makes 500 bucks a game, LeBron James has led Cleveland to the past three NBA titles, and the biggest sport in America is the PCA Tour.
That's right -- the Professional Caddies Association.
Let's listen in to Sunday's final round of the PCA Championship with retired caddy Damon Green doing the play-by-play:
"All eyes are on six-time MVC winner Stevie Williams as he checks the distance and wind before the all-important choice of his next club. It looks like he's reaching for his 6-iron, but wait! Some spectator clicked his camera just as Stevie was reaching for the club! Oh, the shame.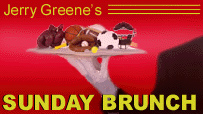 "And now it looks like Stevie's designated club-striker, Eldrick Woods, has grabbed the spectator's camera and thrown it into the lake! Good man, Eldrick, who always has Stevie's back. Stevie will be the first to tell you that a great caddy is only as good as his designated ball striker. After all, that's why they get 10 percent of the caddy's winnings."
See, it's all about perspective. Right, Stevie? Perhaps you're living in the wrong universe.
And now for a few more tidbits from the week that was while our literary chefs put the finishing touches on today's Brunch.
• Did you see that the Green Bay Packers gave a share in the team's ownership to President Obama? That's the best financial news he's had this year.
• Warning! Warning! Brett Favre actually said: "I probably can throw 'til I'm 80." Quarterbacks in Miami, Cincinnati and Washington are on Full Favre Alert.
• Newest game that's sweeping the nation: "Where in the World is Carlos Zambrano?"
• Next year you may see a lot of kids with shirts that read: "My parents went to the 2012 London Olympics and all I got was this Kevlar vest."
• And if you are looking for irony, England's men's soccer team had to cancel it's "friendly" against the Netherlands "due to escalating violence."
• Jay Leno: "According to the National Enquirer, Charlie Sheen is trying to put together an investment group to buy the L.A. Dodgers. Charlie Sheen wants to own the Dodgers. In fact, that may be the only way you hear the word Dodgers and 'winning' in the same sentence."
• Two female volleyball players from the United Kingdom will wear the barcode for a gambling site on the back of their bikinis. So is that a bum-code? And were the Kardashians asking for too much?
• Last question is if the UFL is going to have a six-game season involving four teams, then how many teams make the playoffs?
Time to move along and get to the tasty main dishes in today's Brunch. Bring your intellectual appetite. Lots of laughs today, too.
• Do not miss this, fantasy football fans. The Hollywood Reporter gives us an enormous story by Paul Bond on your beloved pastime. There also are numerous sidebars. Plus, you can find a great list of 15 female movie villains that's not to be missed. Find it all here.
• We follow all that good stuff from Hollywood with a short feature on watermelon helmets favored by fans of the Saskatchewan Roughriders. According to Peter Mills of the Regina Leader-Post, watermelon heads are not welcome in Vancouver. Maybe they fear it could cause a riot? Read it here.
• From Canada back to the Deep South, where Bill Reiter of Fox Sports Florida asks why we root for Tiger Woods but not LeBron James. He has an answer we may not want to admit is the truth. Read it here.
• If you think tweeting is only for the young, you are not following Bill Hanlon, the New York football Giants VP in charge of communications. Michael O'Keeffe of the New York Daily News has put together a top-10 list of Hanlon's tweets to Giants critics. You'll love them -- unless you are an Eagles fan. Read them here.
• We close with the short-take musings of Mike Bianchi from the Orlando Sentinel. Among many other shots, Bianchi, who is not impressed with a quarterback battle between unproven Tim Tebow and unproductive Kyle Orton, writes: "Good grief, this is like a battle of bands involving the Captain & Tennille and Insane Clown Posse." Ouch. Read the other barbs here.
And that's it for the Sunday Brunch that is part of the first full weekend of NFL exhibition action. Life is good.