Commentary
Sports and hip-hop share deep bonds
Originally Published:
August 15, 2011
By
Kevin Duffy
| Special to Page 2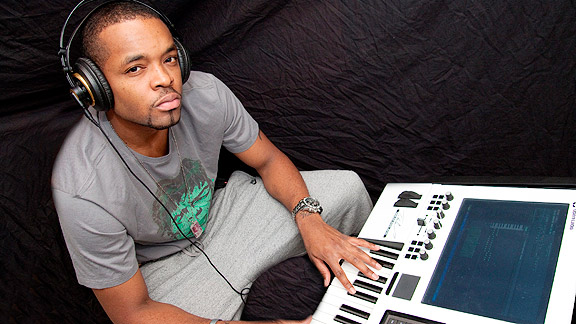 AP Photo/Moe Ager Productions/Berni PerezMaurice Ager starred at Michigan State, made the NBA, and now has a career in music.
The free throw clanked off the front of the rim. The ball was tipped into the air when three big men converged. It was quickly scooped up by Cameron Giles, a sophomore guard for Manhattan Center.
Giles had 4.2 seconds to race 80 feet down the Madison Square Garden floor and tie the 1992 New York Public School Athletic League Class A championship game. He crossed over, instinctively splitting two defenders near the foul line. He hesitated, jetted past another defender at half court and launched a running 3-pointer -- the shot to knock off Brandeis High School and win the city title at the world's most famous arena -- right before the buzzer.
It barely drew iron.
Manhattan Center, which defeated Brandeis twice during the regular season, lost 55-53 in its city title bid.
This was likely just the beginning for Giles, though. He was already one of the best point guards in New York, a city known for churning out big-time little guys. His team had already defeated freshman Stephon Marbury and top-seeded Abraham Lincoln High School by 18 points in the semifinals. As Manhattan Center coach Randall Glading puts it, Giles was a "man-child."
"He was the kind of kid you looked at and said, 'Where do you work out? Where do you train?'" Glading says. "Just real physically mature at a very young age."
So, what ever became of Cameron Giles?
Well, he dropped out of junior college, dropped basketball and dropped the "e" in his first name.
He's now Cam'ron, one of the biggest hip-hop stars of the past decade.
---
Hip-hop and sports -- particularly basketball -- are deeply connected.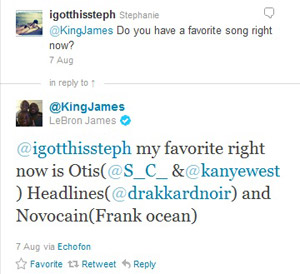 TwitterBasketball players, like LeBron James, are particularly connected to hip-hop.
Before NBA games, players sit in the locker room listening to their favorite rappers on iPods. During NBA games, rappers sit front row with their eyes locked on their favorite players. Rappers write lyrics about the hottest athletes -- in two recent singles, Fabolous name-drops Blake Griffin and alludes to LeBron James' "Decision" -- and athletes tweet about trending rappers. On a recent Sunday afternoon, via his @KingJames Twitter account, James talked about his three favorite current songs: "Otis" by Jay-Z and Kanye West, "Novacane" by Frank Ocean and Drake's "Headlines." It's Drake who best sums up the rapper-athlete relationship in "Thank Me Now" with: "Damn, I swear sports and music are so synonymous / 'Cause we wanna be them, and they wanna be us."
Hip-hop and basketball collide so often that it has become standard to associate one with the other. But why is it so difficult to have success in both?
---
A hot commodity out of Crockett High in Detroit, Maurice Ager had his choice of colleges in 2002. He opted for Michigan State. Ager, a dynamic 6-foot-5 athlete capable of burying a three-on-one possession and throwing down a highlight dunk on the next, led the Spartans to the Final Four in 2005. He averaged 19.3 points per game the following season and was selected in the first round of the 2006 NBA draft (28th overall) by the Dallas Mavericks.
Royce Da 5'9'', a Detroit-born rapper, recognized Ager when the two met. Ager approached him with a track he produced and says Royce essentially brushed him off. "He was like, 'All right, OK, that's cool,'" Ager says. "He never heard my music. He was just looking at me as a basketball player."
Therein lies the "stigma" -- the most prominent obstacle athletes face in attempting to break into the music industry. It's a direct result of basketball players who have rapped -- with varying degrees of success -- in the past.
"It's not that they necessarily fail," Ager says. "But most people don't accept them because they figure athletes aren't able to do other things, especially musically."
Many ballers-turned-rappers have stomached rejection and even public mockery. It pains Ager to admit it, but the track record of NBA players in hip-hop is borderline embarrassing.
Shaquille O'Neal enjoyed the most commercial success. He released five rap albums, two of which went platinum. Fans can judge his "skillz" for themselves. Chris Webber produced a few tracks for Nas in 2006 and '07. Allen Iverson gave hip-hop a shot, as did Kobe Bryant. Unfortunately, Ron Artest did, too. Metta World Peace (that's what Artest is calling himself now) collaborated with Fat Joe in a music video, "Go Loco," that was posted via YouTube on May 11 -- just three days after his Lakers were swept in the Western Conference semifinals.
"It's obvious," Ager says. "Just look over the recent years. Quite frankly, a lot of basketball players who tried to rap just weren't good."
The "stigma" affects Ager less than others because his voice and face aren't out there when he produces a record. In fact, Ager believes his experiences in basketball positively translate to music. "You have to go through obstacles," he says. "You need to have a tough spirit; you have to be able to accept rejections at times."
Ager was born into a musical family: His father, Melvin Rucker, was in a band called Dexter Blues and his mother, Mattie Ager, was a member of the Dayetts. Ager has been writing music since he was 8 and doing production since he was 15.
"The first toy I ever had was a keyboard, man," he says. "I always knew, especially in college, that at one point, music is something I'd really fall back on."
Ager, who compares his beats to those of Dr. Dre, owns a company out of Los Angeles, Moe Ager Productions. He's produced tracks for Shady Records, Konvict Music, Lil' Wayne and Young Jeezy. Even Royce Da 5'9'', once skeptical, has come around to the idea of Ager as a producer.
"He heard [that one track] and was like 'Wow, I wasn't expecting that at all,'" Ager says with a laugh.
When Ager was introduced to Shamon "Toolez" Tooles -- a 6-foot-5, 230-pound forward who was a role player on UConn's 2004 NCAA championship team -- he didn't know what to expect.
"It was refreshing to see an athlete who could rap -- not like some of these other guys," Ager says.
---
A decade ago, Toolez used to freestyle -- as a hobby -- for teammates Caron Butler and Ben Gordon. Today, he's the newest member of Black Wall Street, a Los Angeles-based record label owned by Game. He's also Game's teammate on a summer league basketball team in the Drew League, which features numerous big-name ballers, many from the greater L.A. area; the two rappers joined forces with former Lakers forward Cedric Ceballos, current Lakers guard Shannon Brown (Ager's college teammate) and Raptors high riser DeMar DeRozan, an alum of Compton High, the school where Game played in the mid-1990s.
Born Jayceon Terrell Taylor, Game enrolled at Compton High as a 10th grader and immediately exhibited promise on the court based on his height -- he's listed at 6-foot-4 -- and natural athleticism. According to his JV coach, Tony Thomas, he didn't show signs of interest -- or skill -- in rap.
"His brother could rap," Thomas recalls. "But Jayceon, he didn't really do that."
Several websites, including Game's Facebook page, indicate that his game was good enough to get a basketball scholarship offer at Washington State in 1999. But Kevin Eastman, the Cougars' coach through the 1998-99 season, says he's "never heard" of Taylor. Neither Thomas nor former Compton varsity coach Rod Palmer, now an assistant at Long Beach State, confirmed the Washington State scholarship -- or added any insight about Game's post-Compton days.
Since his formal organized basketball career ended in high school, Game never had to overcome the "stigma" in his ascension up the hip-hop ladder. Neither will Toolez, a relative basketball unknown outside of Connecticut and Coatesville, Pa., where he grew up with up his cousin, Richard "Rip" Hamilton. A guard for the Pistons, Hamilton is part of an uncommon group of pre-lockout active NBA players (including Nazr Mohammed and Corey Brewer) with an NBA and NCAA championship. Hamilton, however, is also common enough to be an amateur rapper.
"We'll be riding around, and you know the end of song when it's just the instrumental for like a minute?" Toolez says. "Rip kills that part. He kills it. But he can't rap."
Toolez is a bit kinder when assessing Shaq's hip-hop talent.
"Shaq, who just retired, he has a platinum album ... or two, regardless if he's a big-time lyricist or not, I would say he has a successful rap career. I think people just have to buy into it, essentially."
As Toolez has learned, there are unnoticed elements -- writing, rewriting, studio etiquette, breath control and pronunciation -- separating the Rip Hamiltons from the professionals. Like basketball, hip-hop requires some God-given ability -- you can't teach swagger, image and stage presence -- on top of the hard work and long hours. When Toolez first met Game, they were in the studio together from around 7 p.m. to 7 a.m. every single night for a month putting in work for "Prisoner of the Moment," Toolez's current mixtape, and Game's "The R.E.D. Album," which drops Aug. 23.
"I can't picture a professional athlete having that kind of time," Toolez says. "Take Kobe, for example. He just dedicates everything to becoming a better basketball player."
Nowadays, Toolez and Game don't play much outside of the Drew League. Ager doesn't play at all. With the NBA lockout in full swing and the 2011-12 season looking bleaker each day, Ager has devoted everything to his production company. He'll come back to the association only if it's a "great situation."
"I'm not trying to make a career in music anymore," Ager says. "I have a career in music. It's actually happening."
By letting go of basketball, Ager is making a transition similar to the one Cam'ron underwent 17 years ago. Cam'ron attended Navarro Community College in Corsicana, Texas, in hopes of eventually playing Division I ball but came home during his first semester. He quickly carved out a musical niche with a unique combination of street cred and goofy rhymes. (Seriously, how many rappers can say "Holy Moly" and "Okey Dokey" and come off as cool?)
Sports metaphors are a minor part of Cam'ron's arsenal. (Although he donned a Utah Jazz hat and jersey in this 2006 "O'Reilly Factor" appearance.) There's the dig at fellow 1994 point guard recruit Andre Miller ("I'm Killa, you Andre Miller -- got a basic game") and "I'm the real boss story, the loser of Hoosiers." That line could be a reference to the missed 3-pointer at the buzzer of the city championship in 1992 or, perhaps, a more general declaration: Cam'ron never made it to a major college, never signed a pro contract.
"The only thing holding him back would have been his height," Glading says, saying Cam'ron was about 5-11. "He had everything else."
Still, as a Harlem native who escaped the street life and became one of the most successful rappers of his generation, Cam'ron is the real boss story. But what if he stuck with basketball a bit longer and became a well-recognized collegiate or NBA player? Would he still be a hip-hop superstar? Or would his unorthodox lyrics simply be labeled as "bad"? Reaching the NBA is possibly the only achievement -- and offers the only lifestyle -- that makes a rapper envious. But the further someone goes in sports, the tougher it becomes in music.
Even Ager, who has experienced success in both worlds, concedes, "They want to be us and we want to be them, man." The funny thing is, less than a year ago, he was "them." Now he's resigned to watching athletes on TV and tweeting about them like everybody else.
"I've finally put myself in position where people go, 'Oh wow, I forgot you used to play basketball,'" Ager says.
If Ager is any indication, the worlds of hip-hop and basketball, seemingly so connected, truly are exclusive.
In terms of making a serious professional career, it has to be one or the other.
And very few people are gifted enough to ever have a choice.
RAPPERS AND BALLERS
Here's a look at some notable names who have crossed over from sports to music.
| Rapper | Basketball highlight | Music highlight | Twitter |
| --- | --- | --- | --- |
| Cam'ron | Played for NYC 1992 Class A title | 3rd album "Come Home With Me" hit No. 1 on Billboard | @Mr_Camron |
| Game | Played at Compton (Calif.) High | No. 1 single on Billboard; more than 10 million records sold | @thegame |
| Allen Iverson | 11-time All-Star; 2001 NBA MVP | Released single "40 bars" in 2000 | @alleniverson |
| Shaquille O'Neal | 5 NBA titles; multiple nicknames | 2 million-plus records sold | @shaq |
| Kobe Bryant | 6 NBA titles; scored 81 points in a game | Released single "K.O.B.E" featuring Tyra Banks | @KBTWOFOUR |
| Ron Artest | Went after Detroit fan in The Brawl; clotheslined J.J. Barea in 2011; won NBA title | Released single "Champion" in 2010; changed name to "Metta World Peace" | @ronartest |
| Chris Webber | 5-time NBA All-Star; Member of Michigan's "Fab Five" | Production for Nas on 2006 album "Hip-Hop is Dead" | @realchriswebber |
| Maurice Ager | Final Four with Michigan State; played 5 seasons in NBA | Production for Shady Records | @moeager |
| Toolez | NCAA title with UConn | Release 1st mixtape with Black Wallstreet | @Toolez |
| Master P | Cut by NBA's Charlotte and Toronto in 1990s | "MP Da Lost Son" sold over 4 million copies | @MasterPMiller |
| Lil Romeo | Briefly played on scholarship at USC | Debut album sold over 2 million, peaked at No. 5 on Billboard charts | @RomeoMiller |
| Tony Parker | 2007 NBA Finals MVP | "Balance-toi" single topped SNEP French Singles Chart | @tp9network |
Kevin Duffy is a reporter for The News-Times in Danbury, Conn. He can be reached at kevin.r.duffy@gmail.com.